The name Ulrich von Liechtenstein is now synonymous with the film A Knight's Tale. In 2001 we watched one of the famous faces of the noughties don chain mail and wield a sword for his role within the critically acclaimed film. The man responsible for performing this part, was of course Heath Ledger, who played the character of William Thatcher—a hapless but well-meaning peasant who masquerades as a knight in order to compete in jousting competitions. A life very different to what his previous lowly status allowed. Over the course of two hours and twelve minutes, the trials and tribulations of the lovable Thatcher unfurl as he attempts to win both competitions and the heart of a noblewoman with whom he becomes infatuated.
The film begins at a jousting tournament located somewhere in 14th Century Europe. It is here where Thatcher discovers his natural aptitude for jousting after wearing the armor of, and successfully competing as his recently deceased Master, Sir Ector. Inspired by the victory and encouraged by his peers—two squires named Roland and Wat—Thatcher decides to carry on participating in future competitions to elevate his social and economic status. 
Where is Gelderland and Liechtenstein?
However, there is one problem which the trio have to navigate: in the Medieval period jousting tournaments were confined to those of a certain socio-economic standing whereby only nobles could participate. Therefore, Thatcher creates a disguise and assumes the identity of "Sir Ulrich von Liechtenstein" hailing from the town of Gelderland
The name Ledger assumes in the film, "Sir Ulrich Von Liechtenstein of Gelderland", would lead us to believe that Gelderland and Liechtenstein must be in close proximity. However, they are nowhere near each other. Gelderland is a historical county located in what was referred to then as the Low Countries and known now as present-day Germany. Whereas Liechtenstein is nestled between Switzerland and Austria. They lie some 372 miles (600 km) distant from one another.
Although this alias was made to look as though the bemused peasant has spontaneously improvised it, the namesake was a deliberate choice by the film's directors due to its rich and interesting history. Ulrich von Liechtenstein is the name of a real knight and poet who existed within the thirteenth century. Ulrich lived a remarkable and eccentric life which included unrequited love, unconventional romance and allegedly, a brief foray into cross-dressing.
So just who was the real Ulrich Von Liechtenstein?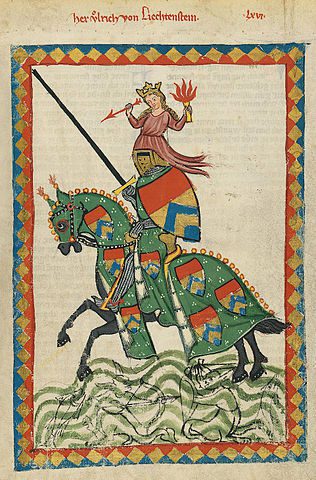 Ulrich von Liechtenstein was born into a small, but prosperous noble family within the 1200's in the Duchy of Syria, better known today as Austria. He initially began his life as a page before later becoming a squire to Margave Henry of Istria (c.1175 – 1228), a noble from the House of Andechs and son of Duke Berthold IV of Merania (c. 1159 – 1204). By the time he reached his early 20's, Von Liechtenstein had proved himself enough to be made a knight by Duke Leopold VI (1176 – 1230). 
The Service of Ladies
Whilst Von Liechtenstein was deemed skilled enough with a sword to warrant a knighthood, he was equally talented with a quill and developed a reputation as a bit of a poet. Most notably, he penned Frauendienst (trans. The Service of Ladies) in c. 1250, an extensive literary publication that is an autobiographical, if slightly exaggerated, account of both his knightly adventures and chivalric exploits. However, whilst von Liechtenstein certainly had a flare for writing about romance and knightly ideals of how to honor a lady, he struggled somewhat to put the theory into practice. Indeed, von Liechtenstein spent the majority of his career trying to win the heart of a particularly fickle, and seemingly hard to please noblewoman.
Read More: Laudanum: The Rise and Fall of the Victorian Super Drug
Early in his career, von Liechtenstein had served a noblewoman who he had become severely infatuated with. He hoped that if he served her unfalteringly and showed his dedication, that his good service would be recognized and rewarded by becoming her lover. Unfortunately for him, it was not quite as simple. The noblewoman (who is never named) was an older lady who repeatedly spurned the advances of the young knight—and not necessarily in the most diplomatic of ways. She is said to have poked fun at von Liechtenstein, focusing particularly on his lip deformity. Ulrich tried to rectify his appearance by undergoing expensive and highly dangerous surgery by a specialist in the city of Graz. This gesture caught the attention of the noblewoman, who in return invited the knight out for a ride. However, overwhelmed by the situation and likely nervous of her status, von Liechtenstein did not act on his emotions whilst with her. This displeased the expectant woman, who is said to have allegedly torn a lock of his hair out to express her frustration. 
From this point forth, von Liechtenstein would have to fight hard to gain the respect of his love, who for three years after this event ignored his existence – including the countless poems and songs that he penned in her dedication. She was apparently so irate at the timidness the knight had expressed; she had even banned him from riding in her colors. This would have been a great slight at the time, as to fight in the colors of the family a knight was serving, was seen as a great honor in the medieval period. 
If at first you do not succeed, try again?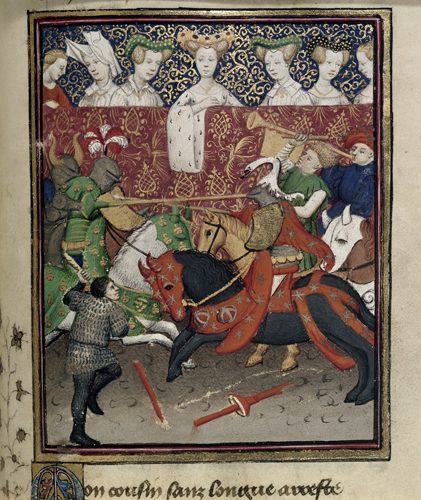 Despite the repeated rejections of the noblewoman, this only made von Liechtenstein pursue her more determinedly. He was aware of the status that his jousting talent gave him and used this to his advantage by informing her of a finger injury he had acquired whilst out in battle. Much to his dismay, this first attempt was fruitless and she initially did not believe the extent of von Liechtenstein's injury. His solution? To send her the severed digit in the post. Whilst this is not a conventional declaration of feelings, this action caught the attention of the flattered lady who viewed it as a sign of dedication.
After this peculiar expression of romance, von Liechtenstein was seemingly back in her good books and now free to compete in her name. Determined to secure her heart (as well as the monetary and social accolades that come with winning jousting matches) he was reported to have embarked on a lengthy jousting trip of Southern Europe, referred to as "The Journey of Venus" to show off his skills whilst representing her name in battle. For over five weeks he competed dressed in ladies clothing, supposedly emulating the Queen Venus in honor of love and romance. He gave notice to the individual cities prior to his visit, so that other knights could prepare for battle in the name of their own women who they were serving. This journey is regaled within The Service of Ladies, where he alleges to have broken a remarkable 307 lances and to have given out a single gold ring to every knight that broke a lance on him.
Returning Home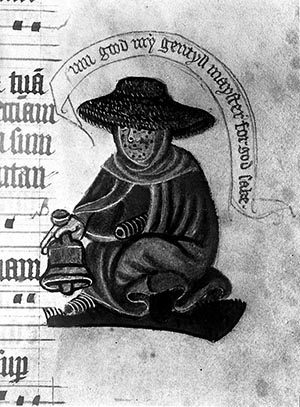 Whether or not this stint impressed the noblewoman is debatable: upon his return she invited him to visit her in her castle, but on the condition that he dress like a leper and wait outside the walls with other beggars who were keen to be in her presence. Ever keen to please, Von Liechtenstein abided by this but was rewarded with complete indifference. It is said that upon seeing the knight, she ignored him and walked straight past. It is then said that she would later drop a rope down to Von Lichtenstein, inviting him to climb, before cutting it short causing him to fall into nearby water. The treatment of von Liechtenstein by the noblewoman draws comparisons with A Knights Tale, whereby her cold, fickle and shallow persona is not dissimilar to the one expressed by Thatcher's love interest, the beautiful but seemingly unattainable Lady Jocelyn.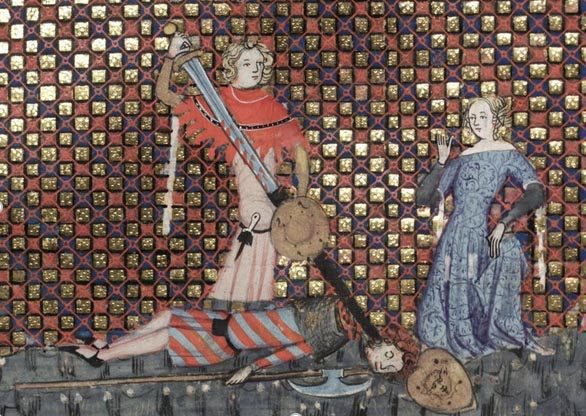 Judging by The Service of Ladies and the scarce historical sources we have concerning this historical figure, it is clear that the thirteenth century Ulrich von Liechtenstein lived a remarkable if unconventional life that makes Thatcher's exploits pale in comparison. In addition to jousting and dedicating much of his time attempting to fulfill his vision of courtly romance, Ulrich von Liechtenstein also found the time to manage a successful, busy estate and tend to the everyday duties that come with being a knight. It is definitely known, for example, that he became a high-ranking commander and provincial judge in his latter years and was the owner of three castles at Strechau, Murau and Liechtenstein. 
Read More: The Bob Semple Tank: Worst Tank Ever
Although historians have suggested that The Service of Ladies was consciously exaggerated or sensationalized for affect, the publication nevertheless reflects its contemporary ideals regarding knightly or courtly romance whereby through a show of physical prowess, a knight could literally and figuratively fight for and win the heart of his chosen lady.