Unless you are German or prone to picking fights, the phrase "Er aber, sag's ihm, er kann mich im Arsche lecken" is likely one that is unfamiliar or at least underused. Roughly translated as "Tell him he can kiss my ass," this less-than-polite phrase is fondly referred to in German culture as a "Swabian salute" and has a history that goes back hundreds of years. According to sources, this was the famous retort uttered by a quarrelsome 16th-century knight named Götz von Berlichingen in response to an angry bishop who was demanding his surrender.
Gottfried "Götz" von Berlichingen (1480–1562) was a feudal solider for hire who was willing to fight to the death—for anyone who had a big enough budget. Although popular with the Bavarian dukes and other powerful figures who could afford his services, Berlichingen is also remembered as sort of German Robin Hood due to his support for the working classes. In his spare time, he reportedly kidnapped nobles for ransom and regularly attacked convoys of merchants for goods he could later trade and sell.
"Götz of the Iron Fist"
In addition to serving a myriad of masters in campaigns that included the wars against the Turks in Hungary in 1542 and even leading a selection of rebels in the German Peasants' War of 1525, Götz von Berlichingen is also renowned in history for a reason other than his military prowess. Indeed, after losing his right arm in battle at just 21 years old, the young knight was given a replacement iron arm with a half functional hand that has since been explored as one of the most renowned examples of innovative prosthetics in the 16th century and beyond.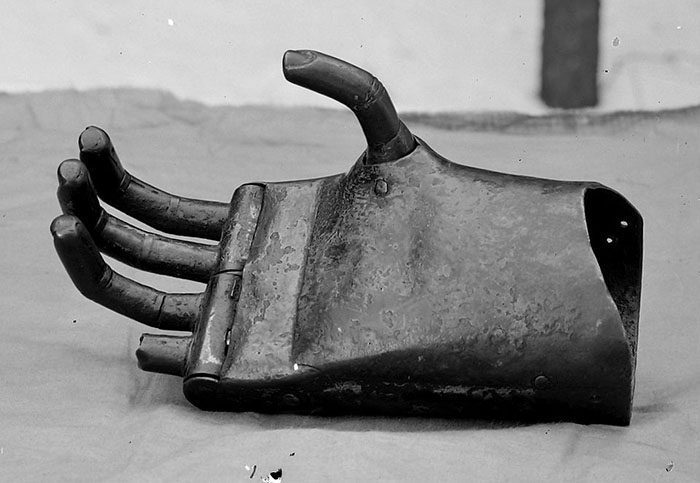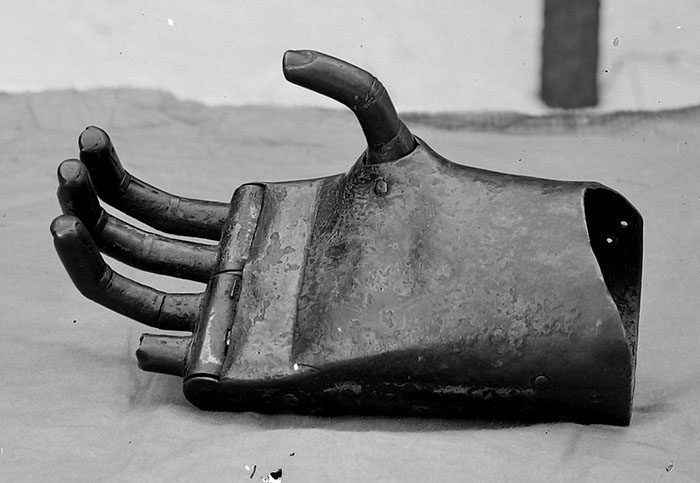 The details of how, exactly, Berlichingen came to lose his right arm has been debated, but it is understood that it happened in 1503 while fighting in the Battle of Landshut, a conflict resulting from a dispute between the duchies of Bavaria-Munich and Bavaria-Landshut. It is alleged that during battle, an enemy canon ball bounced off the young knight's sword, causing him to accidentally cut off his right arm at the wrist.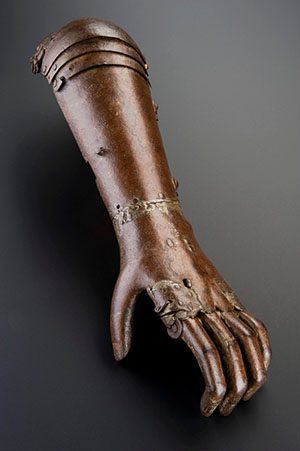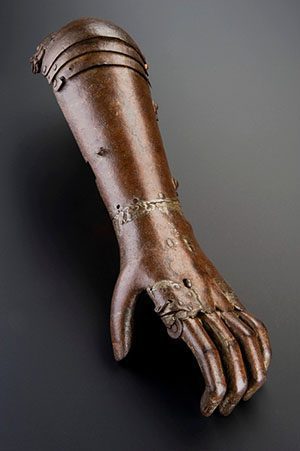 Given his reputation and reliance on his combat skills in order to earn living, it was then imperative for the knight to adapt and find a new way to fight. This solution came in the form of a heavy, iron hand which was relatively functional as it was aesthetically lifelike where the forearm and hand were fully articulated by its unknown creator. It had two hinges at the top of the palm that allowed four hook-like fingers to be brought inward for the purposes of sword-holding, while engraving had been made to sculpt the shape of fingernails, knuckles, and even wrinkles.
An advanced model
Although this first creation served its basic purpose, it was not long before a newer, more advanced model was created for the knight. Although basic in comparison to today's modern standards, this second version was advanced given the period when it was created and has been described by The American Journal of Surgery as "a clumsy structure, but an ingenious one." Comprised of spring-loaded mechanisms that locked the fingers into a place (much like the ratchet mechanism used in handcuffs), this second model allowed for a much wider range of movement and a tighter grip. The newer model would have allowed its wearer to fulfil his knightly duties more easily, such as being able to hold a quill and importantly, securely wield both a sword and the reigns of a war horse.
A brief history of prosthetics
Both the creation and wearing of prosthetics have been around for thousands of years, with the earliest example of a discovered prosthesis being that of a toe. This particular prosthetic hallux (big toe) is thought to have belonged to a noblewoman in ancient Egypt between the period of 950 and 710 BC. Although seemingly a minor body part, its anatomical specificity gives a retrospective insight into the importance of prosthetics as a tool for both functionality, identity, and conformity. Specifically, in its contemporary period and location, a big toe was essential for its wearer to be able to sport the traditional sandals that were not only fashionable, but also practical at the time. Therefore, an artificial toe would have enabled the wearer to look the same as the majority of society while assimilating with, and participating in, the current trends and culture.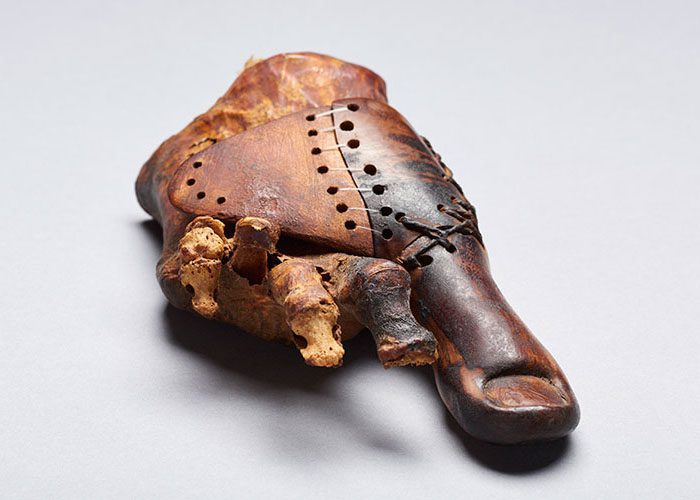 An early example of a prosthetic limb being worn for a predominately practical purpose can be seen as far back as Ancient Rome in the case of General Marcus Sergius, who is considered the first documented wearer of an artificial limb. Like Götz von Berlichingen, General Sergius lost his right hand in the Second Punic War (218–201 BC), so was created and given an iron prosthesis that enabled him to hold both sword and shield, and ultimately continue his career in fighting.
Read more: Ivar The Boneless: Separating the Real Man from Norse Legend
Prosthetics from this period remained relatively basic, and it was not until the period between 1500–1800 AD that developments began to take place. This was partly due to the sheer amount of fighting and warfare going on, where many casualties were happening and by proxy, limbs lost. The 16th century was a particularly important period, as notable advances in both amputation surgery and development of prosthetic limbs were made.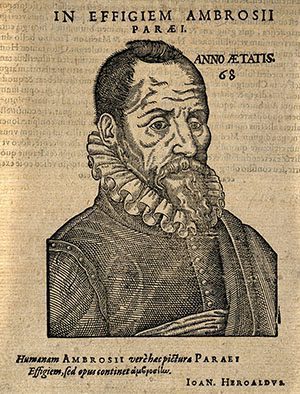 An important figure was the renowned Ambroise Paré (1510–1590) who was the official royal surgeon for kings Henry II, Francis II, Charles IX, and Henry III. He is considered one of the fathers of surgery and modern forensic pathology due to his contributions to surgical amputation and design of limb protheses; for example, he was the first person to introduce a hinged prosthetic hand and a leg with a locking knee joint. This is an advancement still used in modern protheses design, and as such, his contributions can be seen as having laid the foundations for later prosthetic development and advancement.
Götz von Berlichingen's story inspired Goethe
Although Götz von Berlichingen's iron hand wouldn't have necessarily been a perfect replacement for his original body part, the contraption served him very well throughout his career, and "Götz of the Iron Hand" (as he later became to be known) fought well into his later life up until his retirement at age 64. It was in this period that the former knight exchanged sword for quill and penned an autobiography which was left in manuscript form after his death in 1562.
His autobiography was not published till some hundred years later, in 1731, where it caught the attention of German writer and statesman, Johann Wolfgang von Goethe (1749–1832), who was so inspired by the events regaled within that he wrote a dramatic play based on it, titled Götz von Berlichingen (1773). Berlichingen's perception as the "German Robin Hood" is characterized within this literature, whereby the knight is portrayed as a simultaneously fierce yet sensitive protagonist, who in the typical tragic-hero style dies young after a life protecting the peasantry. His renowned iron hand is referenced and used as a tool to emphasize his gallantry, where when explaining to a friar why he can offer only his left hand to shake in greeting, states: "My right, although useful in war, is insensitive to the touch of love; it is disguised by a glove; you see, it is made of iron."
These words, and an accompanying image of Berlichingen placing his iron hand to his heart can be viewed in the southwestern German municipality of Weisenheim where the knight has been memorialized on a plaque. Unlike much of history's material culture, which is often lost with the passing of time, Götz von Berlichingen's second hand is still in existence and to this date can be seen at the castle museum in Berlichingen's native town of Jagsthausen.