Edgar Allan Poe, one of the most celebrated literary figures of the 19th century, is best remembered for his tales of mystery, suspense, and the macabre. The master storyteller's life, much like his works, was shrouded in a layer of enigma and tragedy that only served to amplify his fame posthumously.
Born on January 19, 1809, Poe was orphaned at a young age and taken in by John Allan, a wealthy tobacco exporter in Richmond, Virginia. With a turbulent foster relationship and personal struggles, Poe found solace in writing. His penchant for the macabre and detective fiction, a genre he is credited with inventing, brought him fame. Yet, it was his mysterious death that truly catapulted him into the realm of the legendary.
On a rainy fall evening in 1849, Poe was found delirious outside Gunner's Hall public house in Baltimore, muttering the name "Reynolds" before succumbing to unknown causes days later. His sudden and inexplicable death only added to the growing mystique surrounding his life and works.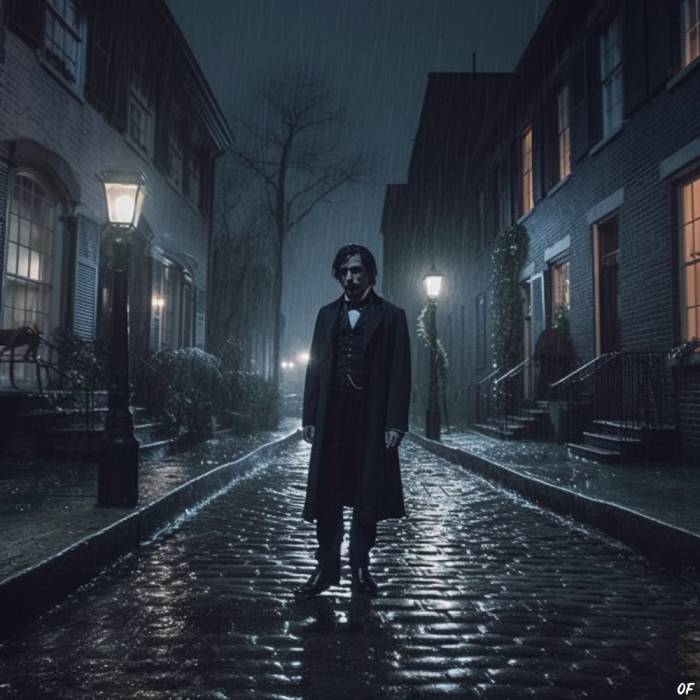 Despite the tragic end, Poe left behind a formidable legacy. As an acclaimed poet, novelist, and literary critic, he paved the way for the growth of science fiction, and gothic horror fiction in America. His tales of the macabre continue to captivate readers worldwide, and his curious death still sparks intrigue. However, an equally captivating aspect of Poe's life is his initially promising military career, which was completely obliterated by self-sabotage at the West Point Military Academy.
A twist of fate – from university to the barracks
Poe's journey into the realms of the macabre and detective stories wasn't a straight path. Instead, it was a winding trail marked by hardship, resilience, and an unexpected detour into military service.
After leaving the Allan household due to mounting tensions, Poe found himself at the University of Virginia in 1826. This brush with academia, however, was short-lived. A young Poe, only seventeen, found himself drawn towards the allure of card games, accumulating a substantial gambling debt in the process.
Edgar Allan Poe's decision to start gambling when he arrived at the University of Virginia was likely influenced by a combination of personal and financial factors.
John Allan, his foster father, had provided Poe with less than a third of the funds he needed for his tuition, books, and other necessary expenses, leaving him with a significant financial deficit. This lack of adequate funding may have pushed Poe to gamble in an attempt to make up for the shortfall.
Beyond the financial considerations, the social environment of university life at the time might have also played a role. Gambling was not uncommon among students, and Poe might have been influenced by peers or drawn to the thrill and risk associated with such activities.
However, this behavior ultimately led to substantial gambling debts and contributed to the deterioration of his relationship with Allan.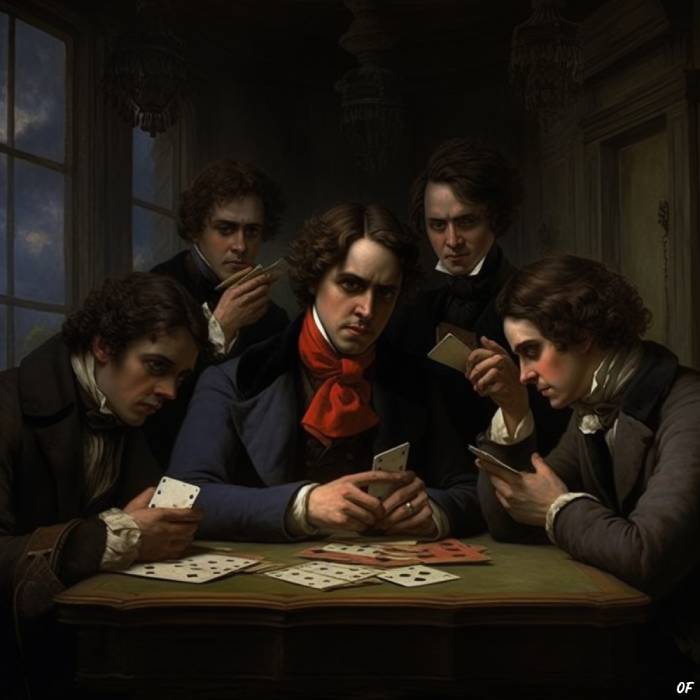 Although Poe was academically successful, his crippling debts and the University's refusal to aid him cast a shadow over his accomplishments. According to The Poe Museum, Poe's gambling debts amounted to $2,000, a staggering sum for the era, and his pleas for assistance fell on deaf ears. The mounting financial pressure led Poe to make a decision that would drastically alter the course of his life.
In 1827, at the tender age of 18, he made an unlikely choice, Poe enlisted in the United States Army. This decision wasn't a romantic yearning for adventure but a desperate quest for financial stability. Poe's decision to enlist in the Army may have been influenced by his grandfather, David Poe, who served as a quartermaster under George Washington during the Revolutionary War. Additionally, Poe had already gained some experience in the military as a lieutenant in a junior militia group that escorted the Marquis de Lafayette during his visit to Richmond in 1824 when Poe was just 15 years old.
However, in an attempt to keep this decision separate from his previous identity and possibly to evade creditors, he enlisted under a pseudonym. He chose the name Edgar A. Perry for his new military life.
The pseudonym Edgar A. Perry is a fascinating choice. The first name, Edgar, was retained from his original name, maintaining a connection to his true identity. As for the last name, Perry, it's unclear why Poe selected it. Edgar Allan Poe, the future master of the macabre, traded his quill for a musket and his ink for gunpowder. This marked the beginning of a new chapter in his life, a chapter that would later be characterized by discipline, service, and insubordination.
From artilleryman to artificer – the military stint of Edgar Allan Poe
Once a resident of university halls, Poe found his new home amidst the stern discipline and structure of the military barracks. The young poet who once penned verses of romance and longing was now an enlisted artilleryman, toiling beneath the harsh sun and bracing winds. But this wasn't a mere chapter of hardship; it was a period of growth, determination, and unexpected accomplishment.
Poe spent five months stationed at Fort Independence. As an artilleryman, Poe's role was demanding and dangerous, involving the handling and firing of heavy weaponry. Yet, his literary mind, often praised for its keen attention to detail and rich imagination, proved to be equally adept in the field of mechanics. This proficiency led to his promotion as an artificer, a position of respect for those skilled in preparing explosives.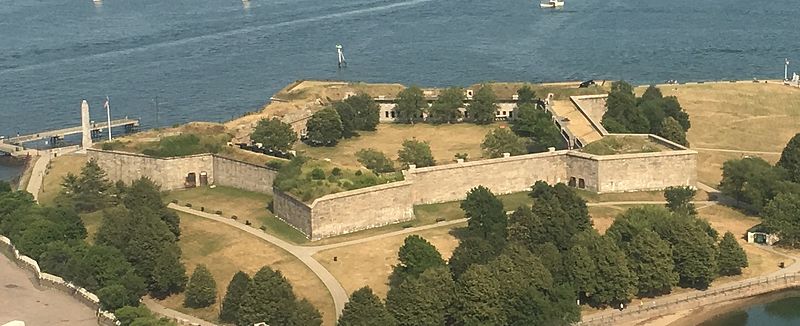 Within two years of his enlistment, Edgar Allan Poe climbed the ranks to become a sergeant major. This role, the highest for a noncommissioned officer, was a testament to his abilities and dedication. Despite the odds, Poe had successfully carved a niche for himself in the military world.
Securing a discharge with a substitute
However, the discipline and regimented life of the army started to chafe against Poe's creative spirit. He began to feel a strong desire to leave, stating that he had served "as long as suits my ends or my inclination." Thus, he started searching for an early exit, a way out of the barracks and back into the world of words and imagination.
Edgar Allan Poe's discharge from the army in 1829 was a somewhat intricate process due to his initial enlistment under a pseudonym, and the fact that he enlisted for a five-year term. However, Poe was determined to leave the army and devised a plan to secure his discharge.
Poe approached his commanding officer and confessed that he had lied about both his name and age upon enlistment. He expressed his desire to end his service and hinted at aspirations of attending West Point Military Academy. His commanding officer was understanding and agreed to support Poe's discharge on the condition that he reconcile with his estranged foster father, John Allan, who had financial influence and could assist Poe in gaining admission to West Point.
Allan helped Poe secure a replacement to fulfill the remainder of his enlistment term, a common practice at the time, which allowed for Poe's early discharge from the army. It's worth noting that this method of securing an early discharge was not exactly "by the book," but it was occasionally employed during that era.
Poe's foster father, was a successful and influential merchant. Despite the fraught relationship with his foster son, largely due to Poe's gambling debts and what Allan perceived as Poe's irresponsible behavior, Allan was willing to leverage his influence to support Poe's ambition to gain admission to the United States Military Academy at West Point.
Allan did indeed leverage his connections to assist Edgar Allan Poe's admission to West Point. Allan wrote to Secretary of War John Eaton to recommend Poe for a position at the academy. While there is no direct evidence that Allan asked President Andrew Jackson for assistance, it's clear that Allan used his influence to aid Poe's admission.
Given the societal norms and expectations of the time, it was common for those with influence and connections to use them to help family members or protégés. This would likely have involved private correspondence and personal meetings. So, it's reasonable to assume that Allan, being a successful merchant, might have leveraged his social network to this end.
Nonetheless, Poe's acceptance into West Point was also based on his own merit. He had previously served in the army with distinction, and he had also demonstrated his intelligence and talent through his writing and poetry.
A poet's rebellion – Poe's West Point misadventures and expulsion
In 1830, Poe, the artilleryman turned sergeant major, transformed into Cadet Poe. His admission to the United States Military Academy at West Point marked another significant shift in his life. The young man, who had already shown the world his extraordinary abilities in both literature and the military, was now in a space where the country's future leaders were molded.
However, shortly after his admission, John Allan remarried and decided to disinherit Poe. Allan also wrote to Poe, expressing his intent to sever all ties with him. This left Poe feeling isolated and enraged.
Young Cadet Poe now possessed motivations that were far from typical. Henceforth, his time at West Point was characterized not by a desire for military advancement, but by a deeply personal quest for revenge. He decided on a course of action that was as unconventional as it was audacious. The orphaned poet resolved to seek revenge by getting expelled as a cadet at West Point.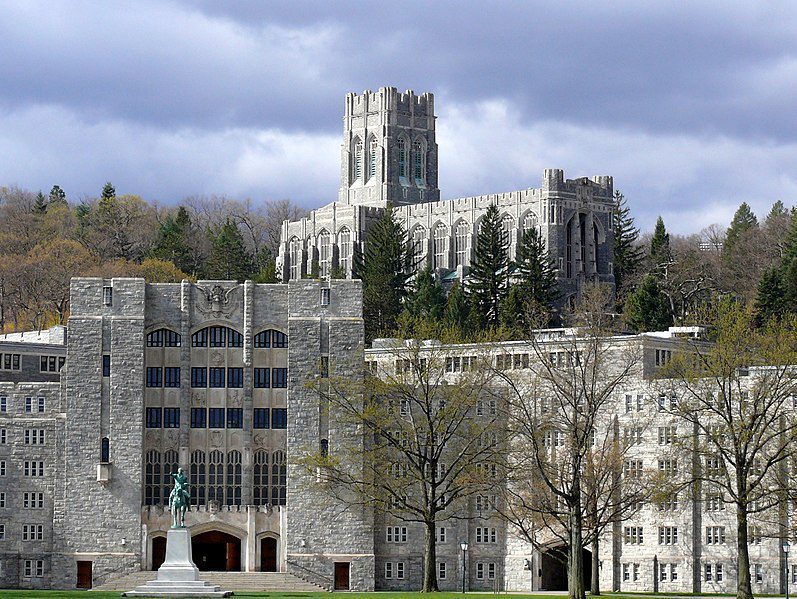 The six months that followed were nothing short of a spectacle. Between July and December 1831, Poe accumulated a staggering 44 offenses and 106 demerits. He ramped up his efforts in January 1832, adding another 66 offenses to his record in just 31 days. The legends of his misconduct have since grown, ranging from allegations of constant inebriation to the claim that he showed up for formation naked.
It's more probable that Poe's offenses were frequent absences from class and a general disregard for the academy's rules. His intent was clear: to get expelled. And in February 1832, he succeeded. In his court martial, Poe was and dismissed for "gross neglect of duty" and "disobedience of orders."
The unorthodox publication of Poe's poetry
Edgar Allan Poe, renowned for his cunning and wit, left a lasting imprint not just on the literary world, but also on his unsuspecting West Point classmates. In the wake of his expulsion, he turned to them for financial support, promising to publish a collection of his poems that humorously jabbed at their instructors. With a glimmer of mischief and anticipation, his peers contributed a total of $170—a substantial sum for that period.
However, the aspiring poet had a different plan in mind. Instead of the humorous verses he had promised, Poe opted to republish a selection of his older, more serious poems. This unexpected turn of events led to a swift and dramatic fallout. Feeling deceived, his former classmates reportedly tossed copies of the book into the Hudson River to display their collective outrage.
Despite the immediate backlash and burned bridges, this event marked a significant turning point for Poe. His audacious scheme, though it terminated his military career, ignited the spark that would eventually make him a revered figure in the literary world.
Post-military writing career – the emergence of a literary titan
After the debacle at West Point and the subsequent fallout from his cunning publication scheme, Edgar Allan Poe found himself at a crossroads. It was here, on the precipice of obscurity, that he chose to pursue his passion for writing. His decision would not only shape his future but would also leave an indelible mark on American literature.
Poe began to take his writing craft more seriously. He channeled his energy into creating tales that would captivate and mesmerize readers, his words weaving webs of mystery, horror, and intrigue. His dedication bore fruit when his work began to garner international attention. He became the first well-known American to earn a living solely from writing—a remarkable achievement in a time when writing was often viewed as a leisure activity rather than a profession.
Poe's influence on literature was profound and wide-reaching. He has been credited with inventing the detective fiction genre, a feat that would inspire authors for generations to come. His novel, "The Murders in the Rue Morgue," introduced the world to the concept of a detective character—a trope that would later be adopted by famous authors like Arthur Conan Doyle and Agatha Christie.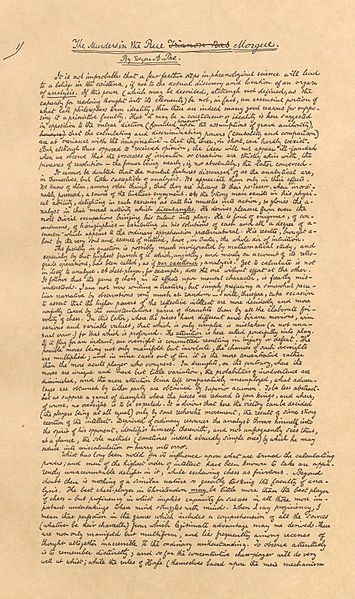 But his influence didn't stop there. Poe's works also served as a catalyst for the growth of science fiction and horror literature in America. His stories, filled with elements of the macabre and the unknown, pushed the boundaries of the reader's imagination, giving birth to a whole new genre of literature.
Even in the face of adversity and personal challenges, Poe's commitment to his craft never wavered. His unique storytelling style and the depth of his characters set a new standard in literature, proving that his decision to leave West Point and devote himself to writing was not in vain.
An enigmatic legacy
Edgar Allan Poe's journey from a troubled military career to literary stardom was as intriguing as the tales he penned. His life was a rich tapestry woven with threads of hardship, rebellion, ambition, and creativity. From the barracks of the US Army to the esteemed hallways of West Point and finally, to the annals of American literature, Poe's path was anything but conventional.
His military career, although marked by notable achievements, was overshadowed by his deliberate attempt to get court martialled and expelled from West Point—a bizarre decision driven by personal vendetta. Yet, it was this very expulsion that propelled him towards his destiny. It pushed him to harness his innate talent for writing and gave us a literary genius whose works continue to captivate us to this day.
Poe's lasting legacy is multi-faceted. As an author, he revolutionized several literary genres. His tales of the macabre, his inventiveness in detective fiction, and his contributions to science fiction and gothic horror have left an indelible mark on literature. However, his life story, marked by a paradoxical military career, personal struggles, and a mysterious death, rivals the intrigue often found in his works. The circumstances surrounding his death only added to the enigmatic persona that was Edgar Allan Poe.
Edgar Allan Poe's life and works are a powerful reminder that sometimes, the most unconventional paths lead to the most profound destinations. Like his tales, the story of Edgar Allan Poe's life remains shrouded in mystery, captivating the imaginations of those who dare to explore it.