An eyeless and spotty, cheese-loving hexapod, currently holds the title of the world's deepest living creature. The deep cave springtail was found living 1,980 meters below the earth's surface in what is thought to be the world's deepest cave.
The discovery of this strange creature was made in 2010 during an expedition which was carried out by the Ibero-Russian CaveX Team of explorers, a Russian / Spanish collaboration, in a cave system which is almost as well hidden as the creature itself. Known as Krubera,(Voronja) the huge cave, only discovered in 1960, is located close to the Black Sea in the Arabika Massif in the Western Caucasus mountains.When the Ukrainian Speleological Association managed to reach a depth of -2080meters in 2001, it was established as the first cave in the world to be known to go deeper than 2000 meters.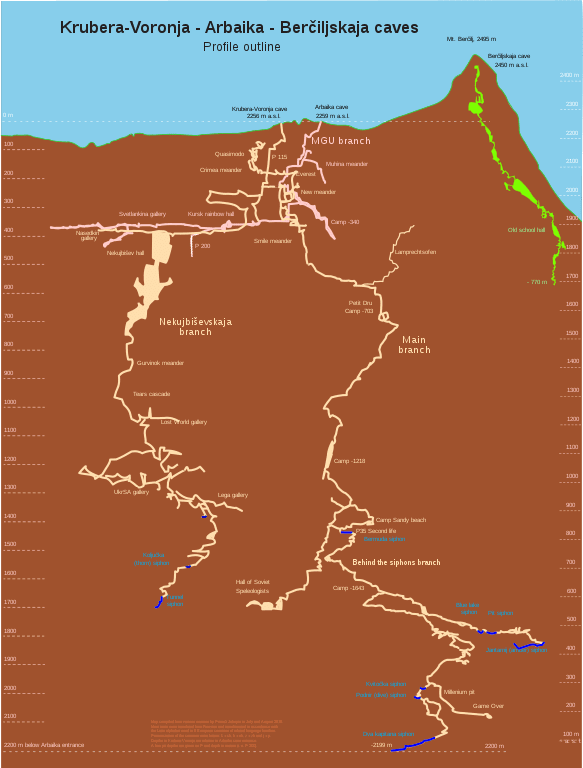 Read more: Star Nosed Mole: The Fastest Forager in the World
What is a deep cave springtail?
The 2010 expedition discovered four strange and before then, unseen creatures inhabiting the cave and one of these was the arthropod named Plutomurus ortobalaganensis. Classified as a Springtail, the creature is not strictly a type of insect but instead is identified as a hexapod with an external skeleton and a number of articulated legs.It was captured by two Spanish members of the biospeleological team who tempted a specimen into a trap by using a piece of cheese.
Springtails are a fairly common species – you can even buy pots of them on Ebay, should you wish to! Apparently they are great in encouraging the compost cycle in gardens, although they are often considered as a pest in North America. A tiny creature, usually no bigger than 1/8th of an inch, their name comes from their ability to jump large distances relative to their size.This is thanks to their furcular which is a strange appendage on their abdomen,which uncurls and sends them flying into the air in what is thought to be a random, uncontrolled way.
All Springtails require a constant source of moisture as they absorb water through their body's case and this means they are regularly discovered in the damp conditions common to many caves, where they thrive on fungi and decomposing plant life.In fact they play a valuable role in maintaining the ecology system of such an environment.
Adapting to darkness
Plutomurus ortobalaganensis however, has several special adaptations which make it particularly successful at living in caves and at such great depth. The complete lack of sunlight at the depths in which it is found, means that the animal has no need for eyes and it is therefore completely sightless. Instead it has developed a huge antenna known as a chemoreceptor, which allows it to find its way around and no doubt to locate the cheese which led to it being trapped. It is also largely lacking in pigmentation as it has no need to be protected from sunlight, or to have camouflage from predators. However the fact that its body has several darker grey spots has led researchers to believe that the creature may have only moved into the great depths at which it was found, in fairly recent times.
Read more: Shanay-timpishka: Peru's Mysterious Boiling River
Its discovery was a feat of scientific endeavour and endurance. The remote location of the cave made even the journey to reach it, both hazardous and difficult, Exploring the cave itself was also treacherous, the Cave X team had been exploring the cave for over ten years before it was discovered.They worked in unpleasant and gruelling conditions, descending from a base camp with only primitive facilities,where snow was their only water supply and food was rationed, into an environment which had temperatures ranging from just 0.5degrees to – 5 degrees Celsius, meaning the explorers regularly risked hypothermia in the long hours that they spent searching for specimens.
Until the discovery of this deep cave springtail, the deepest known earth dwellers were silverfish and a type of scorpion which had been found living at around -920 meters, some thirty years earlier. The discovery of Plutomurus ortobalaganensis at a depth which was almost twice that, was therefore something of a surprise to scientists.Its discovery has led researchers to completely rethink life on our planet, with the realisation that the depths may contain far more species than was previously thought.