For those hailing from the bustling city of New York, it might already be a familiar name, an echo of nostalgia, or even a staple in the fridge. Others may know it as the delectable accompaniment to a savory, salted pastrami on rye—a marriage of flavors made in food heaven. And then, there are those who fondly refer to it as "Jewish Champagne," a testament to its cultural significance and enduring charm. Yes, we're indeed referring to the uniquely enticing Cel-Ray soda.
This distinctively flavored beverage, which is also completely kosher, has its roots buried deep within the cultural fabric of New York and extends its influence far beyond the borders of the city. Originating in 1868, Cel-Ray has managed to sustain its popularity through the changing tides of consumer preferences, maintaining its fizz, literally and figuratively, for well over a century. And as we take a closer look at the intriguing journey of this beloved soda, one can't help but marvel at its consistent allure. Grab a glass, and let's dive into the effervescent world of Cel-Ray soda.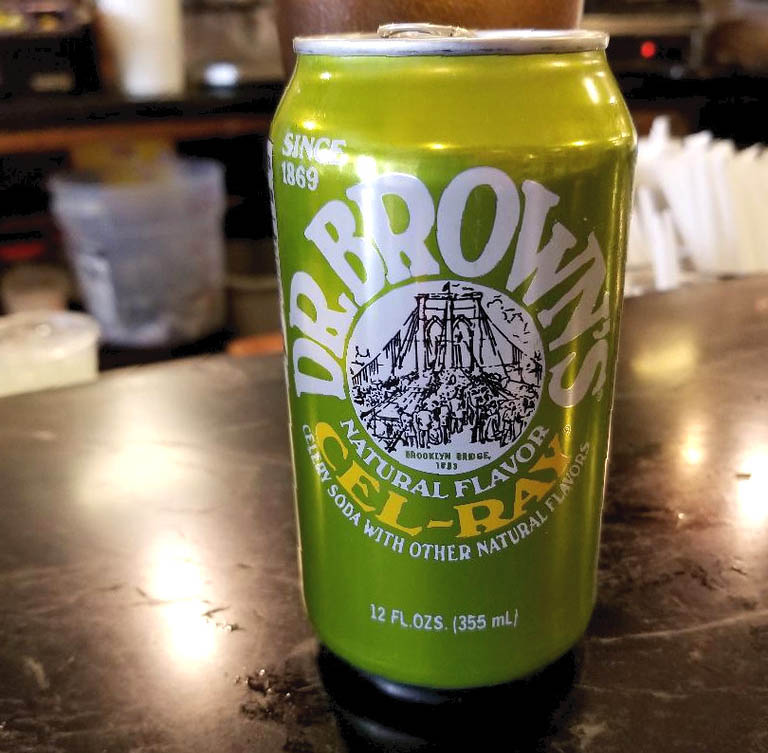 So is it really celery soda? Does it taste horrible?
Yes, and surprisingly… no. Well, it depends. Let's explain.
Dr. Brown's Celery Tonic
Before it became Cel-Ray, it was simply known as "Dr. Brown's Celery Tonic," lauded for being a healthful beverage that was good for calming your stomach and bowels and commonly marketed as a "pure beverage for the nerves." Though called a celery tonic, Cel-Ray soda is actually made with the seeds rather than the rib of the celery (though one still wonders if it would taste great with some peanut butter).
Eventually, the FDA decided that "tonic" is too misleading, and so the name was changed to Dr. Brown's Cel Ray. Also, carbonation was introduced. This was a welcome change since the original tonic was described as rather thick and hard to "get down." With carbonation and a bit of sweetening, Cel-Ray soda soon became a New York deli favorite. Imitators would follow, but by the 1930s, only Cel-Ray was still going strong.
Oddly enough, it has garnered enough of a following that it's still around.
The mysterious Dr. Brown
Though the concoction is attributed to a Dr Brown, no one seems to know who he is. Some say that he was a real New York physician living in the Lower East Side or possibly in Williamsburg, whereas others suspect that adding "Dr." to the name was simply a way to get people to view the celery tonic as actual medicine. We strongly suspect the latter.
What does Cel-Ray soda taste like?
While celery-flavored soda sounds like an awful idea, fans of the drink say it's actually quite refreshing. The taste is compared to ginger ale, though less sweet and with a hint of pepper and herbs. At one point, there was a Diet Cel-Ray, but it was discontinued due to poor sales. Considering how non-diet competitors went the way of the dodo, we suspect it's highly likely there's only one way to do Cel Ray right, and diet simply couldn't cut it.
Where can I try it?
Visiting New York? You're in for a treat! As you wander through the city's labyrinth of streets, don't miss the chance to pop into one of the many Jewish delicatessens dotted around town. Here, nestled among mouthwatering lox and delicious rye bread, you will find the refreshing and distinct Cel-Ray soda, waiting to tantalize your taste buds. If your exploration takes you to the West Coast, worry not; Los Angeles, with its vast culinary landscape, also hosts numerous spots where you can quench your thirst with this unique beverage.
However, if your travels don't take you to these locations, there's no need to miss out on the Cel-Ray experience. Online, this nostalgic elixir is just a click away. Websites like Amazon, Beverages Direct, and Soda Pop Shop offer the opportunity to order Cel-Ray right to your doorstep. So, whether you're eager to savor it with a salty sandwich or simply curious to try a new taste, the avenues are open.
The real question is—is Cel-Ray soda an eccentric choice or a gourmet delight? It's a debate that has been ongoing for decades, with the scales tipping in favor of personal preference. However, there's only one surefire way to settle the score for yourself. Order a bottle, pop open the cap, and take that first sip. Only then will you truly understand the charm of Cel-Ray soda—a charm that has stood the test of time since 1868.