Known for its sweet taste, smooth texture, and delicious flavour, ice cream is the perfect accompaniment to any dessert—pancakes, waffles, fruit, pies, you name it. A unique variation that you may have never tried before though is dondurma.
What is dondurma?
Hard in texture and resistant to melting, dondurma is starkly different to the ice cream we all know and love. It's thought to have originated in Maraş, Turkey, which is why it's also known as "Turkish ice cream"—although it can be found in various parts across the Eastern Mediterranean, which includes northern Greece, where locals call it dudurmas or kaimaki.
Read more: Nutella Café Opens Doors in Chicago – Nom Nom Nom
Dondurma is made from cream, whipped cream, sugar, and mastic (a chewy plant resin that imparts elasticity and a higher melting point). The final ingredient is salep: a flour derived from the ground-up tubers of early purple orchids native to Turkey, which acts as a thickening agent and has a unique taste. In fact, salep was introduced during the Ottoman era, as at the time orchids were thought to have aphrodisiac properties.
There are various ways to consume dondurma ice cream. For example, the Kahramanmaraş region in Turkey uses more salep, to make the dish tougher and stickier—so much so that instead of a spoon, people tend to eat it with a knife and fork! Other areas of Turkey eat pieces of dondurma that have been cut using a butcher knife, similar to shawarma.
How is dondurma served?
Much of dondurma's uniqueness comes down to the process of its creation. Ice cream vendors keep it churning constantly, using paddles, mallets or rods—key elements to ensure that the mixture retains its elasticity.
Even the act of serving is fascinating. Dressed in Ottomon-era clothing, vendors usually put on a show for customers. They offer the customer the serving of ice cream on a stick, before rotating and taking it away from the customer's reach at the very last second, then finally giving it to them—a gesture that confuse tourists who aren't accustomed to the show.
Dondurma's combination of taste, texture, and showmanship brings in tourists from all over, with an area within Istanbul having now become known as the "ice cream district."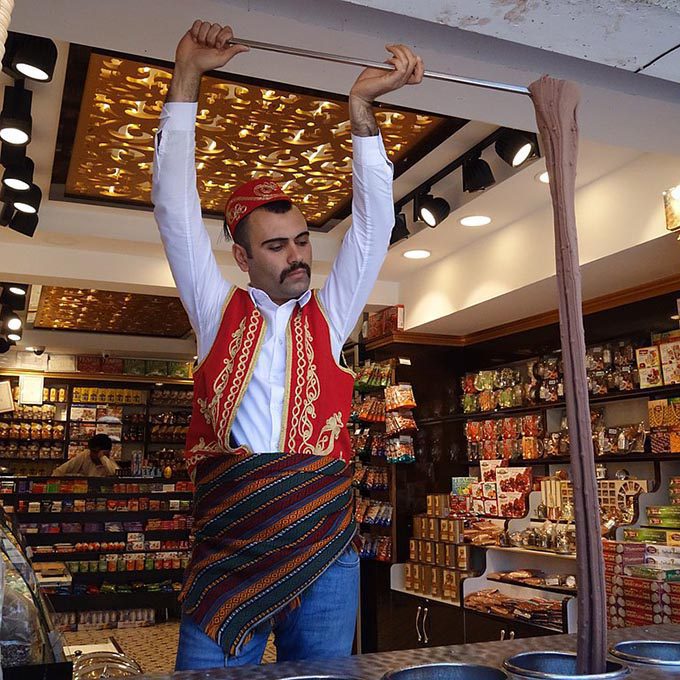 Where can I get a taste?
Curious minds may be quick to try and find their nearest dondurma ice cream vendor, but unless they live in Turkey, they're likely to face some difficulties.
Authentic Turkish dondurma is yet to enter the international market for one single, yet extremely significant reason: Turkey has banned salep exports. The decision was made years ago, in response to the rising popularity of dondurma causing a sharp decline in wild orchid numbers.
Read more: How Are Cotton Candy Grapes Made? Designer Fruit Alchemy
Given that a whopping 1,000 orchids are needed per kilogram of salep, the existing demand in Turkey is enough to cause concern, let alone the potential surge in demand if dondurma were to gain global fame. After all, according to the University of Guelph in Canada, in 2010, the average person in Australia consumed 4.7 gallons (17.9 L) of ice cream, followed closely by 4.2 gallons (15.8 L) in New Zealand and 3.6 gallons (14.2 L) in the US. If the statistics aren't lying and people really do love consuming ice cream by the bucketful, then there's no doubt that dondurma would be added to the list of favorites.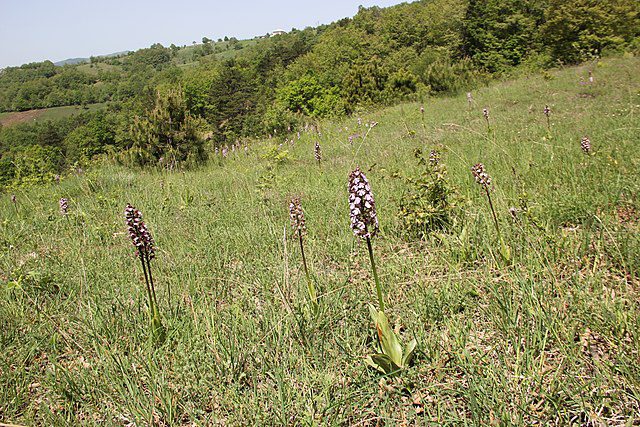 The demand for orchids for salep is not only an environmental but also an economic concern. Over the years, shepherds in the southeastern region of Turkey have expressed anxiety over the difficulty in finding wild orchids, which they depend on for their income.
Replicating dondurma with salep substitutions
The good news, however, is that dondurma can be replicated using alternatives to salep. For instance, the American company Lezzetli Mediterranean Ice Cream uses konjac flour, guar gum, vegetable glycerin, carrageenan gum, and locust-bean gum to thicken the mixture, although they're quick to note that the substitutions mean their ice cream isn't exactly dondurma.
If you're looking for the real deal, then you'll have to wait until your next trip to Turkey, but if you're lucky, you might just be able to find an amazing (and adapted) dondurma ice cream vendor near you!