An icon of African imagery, the baobab is known as the "upside down tree" because it looks like it was planted upside-down with its roots in the air. According to legend, the God Thora threw the baobab out of his garden—it landed upside down and kept growing to spite him. But a different version of the story, presumably peddled by Christian missionaries, is that after baobabs were planted by God, much like the Ents in The Hobbit, they kept on walking, so God pulled them up, turned them upside down, and replanted them so they would stop moving.
The "upside down tree" can be found in Central and Southern Africa and nearby islands such as Madagascar. 
Read more: The Statue of Unity: A Colossal and Controversial Wonder
Baobabs can grow to become ancient and massive. The largest, found in South Africa, is 52.5 feet (16 m) in diameter and as much as 6,000 years old. Its circumference is equivalent to about 154 feet (about 47 m). For reference, note that it would take at least 40 adults standing around it with their arms outstretched to circle it.  
Like children, baobabs have growth spurts, which are what tend to give rise to cavities in the trunk. They grow to their enormous size because they can store water, with the biggest holding about 32,000 gallons (120,000 liters). In the dry season, animals eat their bark for moisture (don't worry, the bark will regrow). Elephants find them particularly tasty. 
There are six different species of baobab, with Adansonia grandidieri or Grandfather's Baobab the biggest. They usually live for at least 3,000 years. They flower at night and shed their leaves in the autumn. 
Read more: Antilia: The Biggest House in the World
The "upside down tree" also has other uses. Because of its hollow interior, it's used for shelter and protection, and even as a residence. Its bark is particularly useful: it's used to make fishnets, cords, and sometimes clothes. The bark can also be ground up and used to flavor food. The baobab even has edible leaves. Cream of Tartar was first extracted from baobab seed pulp, resulting in a beverage that is a bit like lemonade. 
Baobabs have been post offices and jails. The most well-known giant baobab on Sunland Farm in Limpopo, South Africa, had a traditional European pub inside its trunk. The Big Baobab Bar, as it was called, reportedly had to be removed in 2017 when the trunk split in two because of age. Other reports claim it is still open. If so, it has a dartboard, proper bar, barstools, draft beer, and a selection of fine wines and spirits. As one story goes, 54 (presumably small, very friendly, and likely inebriated) adults once squeezed into the pub for a party.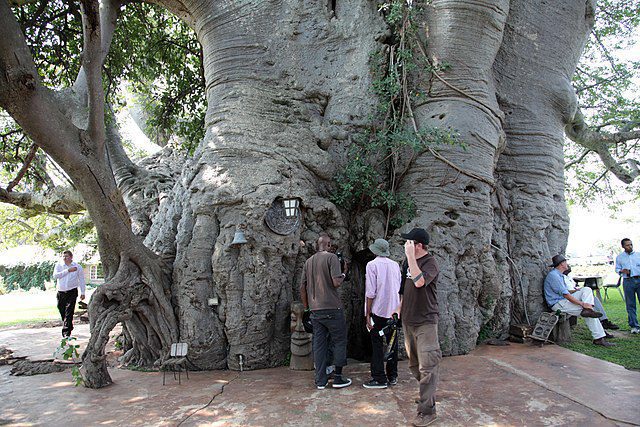 In stories from the South African War (1899–1902), also known as the Boer War, fought between Britain and two Boer republics, baobabs were sometimes described as "hidey-holes." 
The best use most people find for a baobab tree is as the backdrop to a "sundowner": a tradition that originated in South Africa to have a cocktail as the sun is setting—which is also when you take the best photographs.