Considered the tallest statue in the world, the Statue of Unity is a gigantic statue of Sardar Vallabhbhai Patel — India's first deputy prime minister and a leading activist in India's independence movement. Don't believe us? Well, you can see it for yourself in Gujurat, India.
Besides being tall and awe-inspiring, the statue has angered more than a few people. In this day and age, it seems we tend to keep our "architectural marvels" confined to the big cities for housing corporations and even these tend to be a bit more "disposable" than we might like to admit. So what inspired this project and is it really something that the locals should be irritated about? If you will pardon the slang-spiced pun, let's discuss "dis Unity."
Just how colossal is the Statue of Unity?
When you mention that a statue is the tallest in the world then it would be lazy journalism (or pure nastiness) to leave out the fine details, so let's get those out of the way.
Read more: The Amazing Owl Cabins of Bordeaux Where You Can Stay for Free
The Statue of Unity is so tall, in fact, that its base alone measures 190 feet (58 meters), making it tall enough that one of the original 7 Wonders of the Ancient World, Colossus of Rhodes, would likely have needed a helping hand from Sardar Vallabhbhai Patel's statue just to hang out at his feet. Formerly, the "tallest statue in the world" was the Spring Temple Buddha in China, at 420 feet (128 meters) high. The Statue of Unity at 597 feet (182 meters) surpasses the Spring Temple Buddha by about 177 feet (54 meters).
The "8th Wonder of the World"?
The Statue of Unity has been lauded as the "8th Wonder" of the World by… well, the Shanghai Cooperation Organisation. While the Statue of Unity is currently the world's tallest statue, in Mumbai a project is underway for a statue of Chhatrapati Shivaji Maharaj, a 17th century warrior king, that will be 695 feet (212 meters) tall, so it just may be a short-lived title for Sardar Vallabhbhai Patel's statue.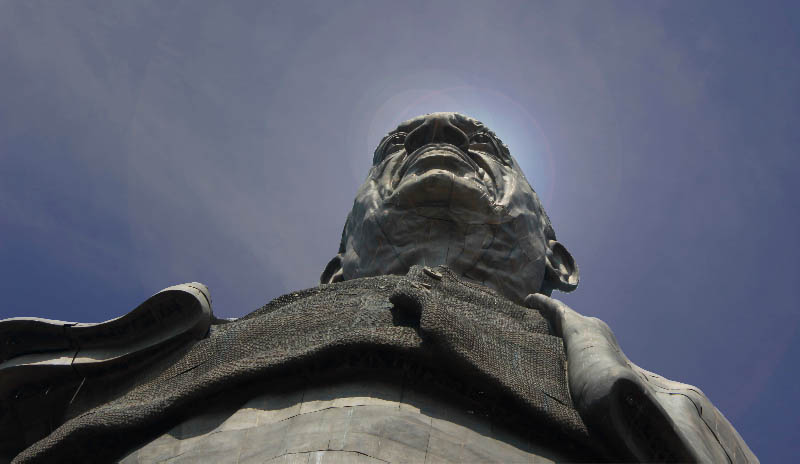 Such is the way of the world.
Controversy surrounding the Statue of Unity
There were a few things that rubbed some people in the wrong way where this statue was concerned. For one thing, a number of people were displaced from their homes at the statue's current location and many of them do not feel that they were adequately compensated for this. Approximately 185 families were affected, many of whom came from tribal groups that have protected status.
How so? Well, the site where the statue is built happened to be an Adivasi sacred site, which was reportedly taken forcibly from them.
Read more: Taipei Forest Bus Has Everyone Lining Up for Daily Commute
Other criticisms for the statue include that the bronze sheeting was installed by Chinese labor and that the architect of the statue was Chinese, rather than Indian.
Still further complaints about the project point out that the statue construction was begun without any environmental oversight, with little or no environmental impact studies implemented before this project began.
Many people also believe that erecting the statue was a political move, but this seems to be the least of everyone's worries.
Statue of Unity should draw some tourists, at least…
Equipped with super-fast lifts that can bring up to 5,000 people per day into its "viewing gallery," there is no doubt that many tourists will be coming to see this statue.
Controversial or not, the Statue of Unity is certainly an architectural marvel, and hopefully it will continue to be enjoyed a hundred or more years from now.
Only time will tell.