Traveling from place to place, with no fixed address, no phone number, and few means of passing information, America's hobo community created a code of symbols. The Hobo Code was a series of simple diagrams that could be used to give vital information to any other hobo passing by.
The Hobo Code and the advent of the railroad
The end of the 19th century saw a rapid advancement of America's railroad network. For the first time, people could travel across the country with relative ease and comparably quickly. Unlike horse carriages and wagons, these new trains were easy to hop on and hop off without a ticket. Most were used to transport goods and freight, so they often traveled directly into areas with factories looking for workers.
The advent of the railroad allowed these workers—known as hobos—to travel from place to place in order to find work. When modern readers hear the term "hobo," they often think of homeless people begging for money and food. However, in the late 1800s and early 1900s, hobos were, in fact, migrant workers.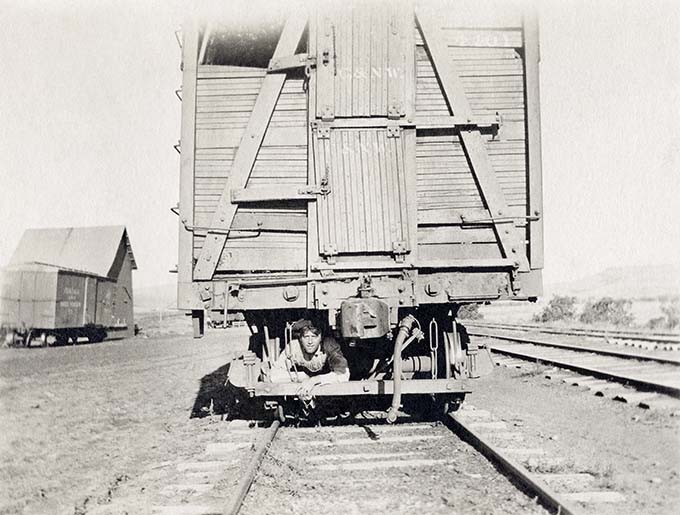 A necessary system of communication
Hobos received mixed receptions from the people and places they approached for work. Some people were keen to help, whereas others looked down on these workers: the latter could be violent or could refuse to pay after hobos had completed the work. In order to stay safe when approaching houses or towns, hobos needed an easy system to warn and inform other people of what to expect. This intricate system of symbols became the Hobo Code.
The beauty and simplicity of the Hobo Code
The Hobo Code is a series of simple line drawings, each depicting a complex idea. Many have likened the Hobo Code to Egyptian hieroglyphics. These symbols needed to be able to be written quickly onto posts, water towers, gates, or any surface using chalk, coal, or a nail. These images could inform another hobo to turn around if danger lies ahead or to expect a good welcome.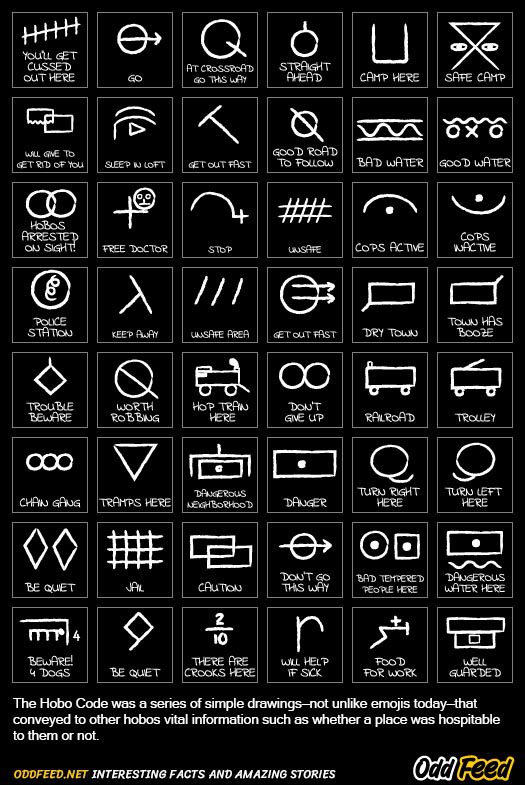 Read more: What Is a Weeb or Weeaboo?
The Hobo Code's beauty is that people outside the hobo community can dismiss the drawings as random doodles. A hand-drawn letter "x" with a circle drawn around it wouldn't be noticed by most people. However, to another hobo, this symbol drawn on a post lets them know it is a good place for a handout.
How often was the Hobo Code used?
How often the Hobo Code was actually used is rather tricky to know. People who lived this transient lifestyle were unlikely to leave records or accounts. Though the news at the time thought the Hobo Code was widespread, this information was based on the hobos' claims—who were often regarded as a group who liked to embellish and exaggerate the truth.
The hobo way of life
The hobo was a particularly popular lifestyle following the financial crash of 1929 and the subsequent Great Depression. It is estimated that between 1929 and 1939, four million Americans were forced to leave their homes in search of food and jobs.
Read more: Maria Rasputin: The Fascinating Life of the "Mad Monk's" Daughter
However, this way of life slowly lost popularity during the 1950s. Police presence and stricter security made it difficult to jump aboard trains, and people became less willing to house transient workers in their homes. Today, there still exists a code between homeless communities, but the way of communication has changed dramatically. Before 2005, warnings and tips were shared by word of mouth. Today, such information is exchanged mostly on forums and dedicated apps.
The lifestyle of the hobo has long fascinated writers and artists. They often saw an idealized vision of their way of life, singing songs and drinking whiskey while looking at the passing landscape. In reality, the hobo lifestyle carried many dangers, and the Hobo Code shows how innovative these people were.