If asked to name a famous Japanese train, you're more likely to think of the bullet train than one that rivals the Orient Express. But a new train has just rolled into town and it's called the Shiki-shima train. Arguably the most luxurious train in the world, no expense has been spared on both its striking exterior and its top-notch interior.
The Shiki-shima eye for detail
The Shiki-shima comes with an interior that references the best of Japanese culture, with Tatami mats laid in bedrooms and a bespoke cypress bath in one of the signature suites. The lounge area, one of several shared carriages where guests can relax, is modelled on a Japanese forest. There's also two observatory cars, bathed in natural light through panoramic windows, where guests can enjoy the scenery as they travel through Japan.
The exterior of Shiki-shima is just as magnificent. The 10-carriage train is clad in a distinctive champagne-gold finish.
But you'd expect no less from Kiyoyuki Okuyama, the Shiki-shima's designer. Famed for his outstanding work for the likes of Ferrari and Porsche, he's translated his design flair to rolling stock, having conceived every aspect of the train's appearance.
A train of four seasons
Exclusivity and luxury is what the Shiki-shima runs on. With only 17 suites available, the train can only accommodate up to 34 passengers at any one time. It embarked on its maiden journey on May 1st this year, and it's already fully booked until March 2018. Demand has been so high that its owners, the East Japan Railway Company, have had to allocate bookings by lottery.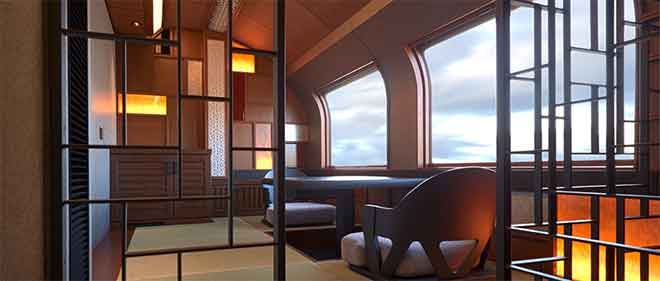 Travelling the length and breadth of Japan, to celebrate Japanese culture as well as its industry and nature, the initial, basic trip of the Shiki-shima is a three night summer tour beginning in Tokyo (from a platform built exclusively for the train). Autumn and Winter tours are also offered, travelling to different regions. Tickets for the experience cost up to £6,600 per person, based on two sharing.
If there is one area where the Shiki-shima falls behind, it's its speed. The quickest bullet train in Japan can reach speeds of up to 320kph, the Shiki-shima manages a more modest 110kph. That said, when you've shelled out over six grand on a ticket, you'd want to spend as much time on the train as possible.
Not your normal train service
The Shiki-shima is said to rival the best five-star hotels. A trip on this train is as much about the traditional Japanese service, as it is about the journey. Within the lounge carriage, you will find some traditional Higashi sweets served with green tea. A pianist plays requests and butler service comes as standard.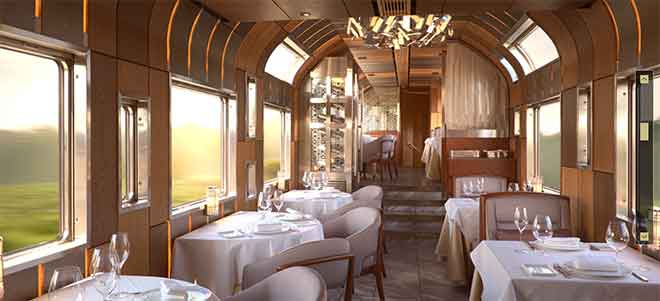 Likewise, the food offered on board far surpasses anything you'd get on a regular train journey. Katsuhiro Nakamura, Japan's first Michelin-starred chef, has devised the menu, which change over the course of the trip to reflect the area that the train is currently travelling through. After dinner on the first night of the trip, guests are treated to a traditional Japanese dance.
Rolling into the future with Shiki-shima
The Shiki-shima is one of many luxury sleeper trains to hit the market this year, highlighting how train travel is changing from a means to get somewhere, to a destination in itself. Given its popularity, the Shiki-shima train doesn't look to be running on empty any time soon. With staff that promise to treat you like family, its fine cuisine and wood-paneled carriages, a trip on the Shiki-shima train showcases the best of Japan without even having to step foot outside its carriages.