At first glance, the concrete Eshima Ohashi bridge linking the Japanese cities of Matsue and Sakaiminato looks like an impossible feat. Photos taken at the mouth of the bridge make it look more like a theme park rollercoaster than a standard road bridge. But appearances can be deceiving: most of the photos online make the structure appear more challenging than it is. Viewed from the side, its height seems almost reasonable.
But Eshima Grand Bridge, as it's also known, still isn't a conventional bridge. Just be thankful you didn't have to hill start a manual car for your driving test on this scary bridge.
Read more: Square Waves in the Ocean: A Beautiful but Deadly Phenomenon
The two-lane bridge is a little over a mile (1.7 km) long and 37.4 feet (11.4 m) wide. It has a pitch of 6.1% on one side and 5.1% on the other. Eshima Ohashi Bridge is the largest rigid frame bridge in Japan and the third-largest in the world. It connects Matsue, Shimane Prefecture, with Sakaiminato, Tottori Prefecture, over Nakaumi lake. Both prefectures are in the Chugoku region of Japan's largest island, Honshu.
Eshima Ohashi Bridge's unusual feature is a steep pitch in the center to accommodate ships passing below. Construction started in 1997 and finished in 2004, replacing what was previously a drawbridge. The drawbridge needed to be replaced because of increased vehicular traffic and the delay of seven to eight minutes as the bridge was raised and lowered to allow ships to pass through.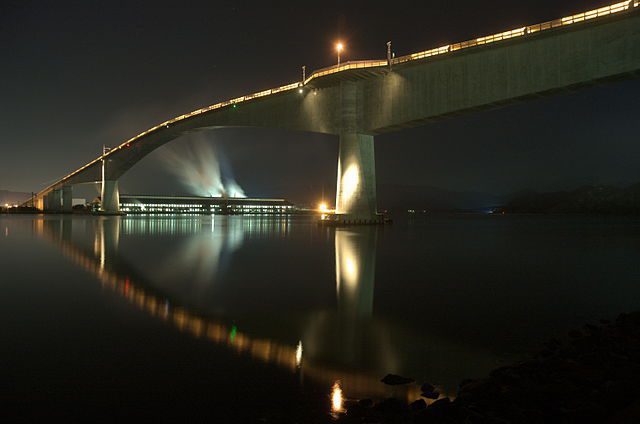 Read more: The Statue of Unity: A Colossal and Controversial Wonder
The drawbridge also restricted trade and added additional costs between the two prefectures. Large vehicles over 14 tons had to take a long way around. The drawbridge could handle about 4,000 cars a day. The new Eshima Ohashi Bridge can handle much more.
Besides its height, Eshima Grand Bridge is known also for being featured in a commercial for the Daihatsu Tanto minivan, used to demonstrate the vehicle's durability.
So is Eshima Ohashi Bridge the world's scariest bridge? Apparently not—it doesn't even make the top five, so don't believe all you see.