To the uninitiated, the first glimpse of the Eshima Ohashi bridge, a concrete marvel spanning the cities of Matsue and Sakaiminato in Japan, might evoke feelings of awe and trepidation in equal measure. Its towering slopes and seemingly impossible gradient captured in pictures, often create an illusion of an amusement park rollercoaster ride rather than a conventional bridge for vehicles. However, much like an illusionist's clever trick, these images tend to exaggerate the actual challenge posed by the bridge. When viewed laterally, the bridge's gradient appears considerably less daunting, though still far from ordinary.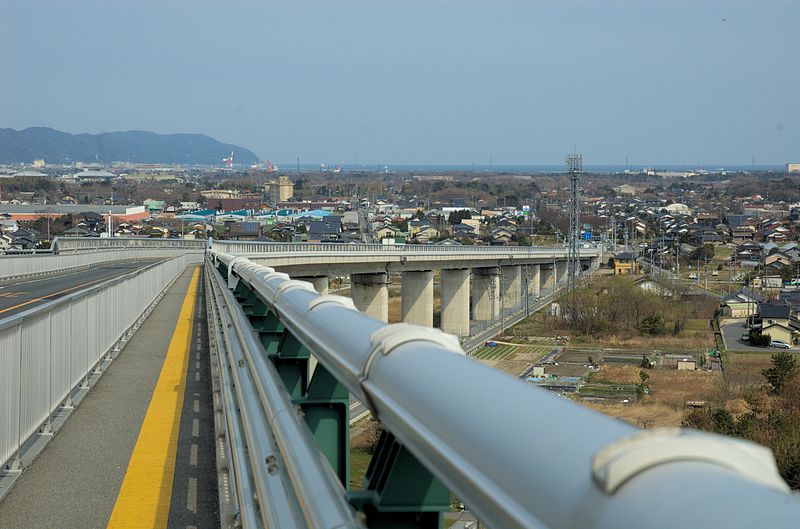 Also known as the Eshima Grand Bridge, this structure challenges the norms of bridge design, evoking a sense of dread and relief simultaneously, particularly for those driving stick-shift vehicles. One can only imagine the difficulty of a hill start on this towering architectural masterpiece.
Stretching a little over a mile (1.7 km), with a width of 37.4 feet (11.4 m), the Eshima Ohashi Bridge is a two-lane spectacle that demands attention. Its gradients, 6.1% on one side and 5.1% on the other are unusually steep for a bridge, offering drivers an experience akin to a controlled drive down a ski slope. As the largest rigid-frame bridge in Japan and the third-largest globally, its impressive stature connects Matsue in Shimane Prefecture with Sakaiminato in Tottori Prefecture, traversing over the serene Nakaumi Lake. Both cities reside in the culturally rich Chugoku region of Honshu, Japan's largest island.
The bridge's peculiar inclination is not purely for aesthetic intrigue or thrill-seeker's delight, but rather a practical solution to accommodate passing ships. Constructed over seven years, from 1997 to 2004, the Eshima Ohashi Bridge was designed to replace an increasingly inefficient drawbridge. The original drawbridge was a bottleneck for burgeoning vehicular traffic, with delays of seven to eight minutes each time it was raised and lowered to allow the passage of ships. The new design eliminates this inconvenience, offering a smooth, albeit thrilling, ride over the scenic Nakaumi Lake.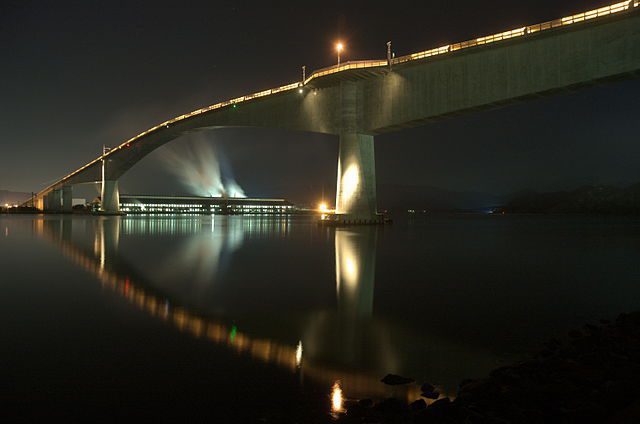 The erstwhile drawbridge, while once an essential link between Matsue and Sakaiminato, gradually became a hindrance to regional progress. Its limitations constrained trade, levying additional logistical costs, and forcing large vehicles weighing over 14 tons to embark on longer, less efficient routes. The drawbridge's capacity was woefully inadequate, capable of accommodating merely 4,000 cars daily, a fraction of the burgeoning traffic between the two prefectures.
In stark contrast, the Eshima Ohashi Bridge, rising like a concrete leviathan from the waters of Nakaumi Lake, can handle a much larger influx of vehicles, easing transportation burdens and ushering in an era of economic vitality. Its towering height and seemingly challenging gradient have attracted attention from unexpected corners. The bridge's unique features were highlighted in a commercial for the Daihatsu Tanto minivan.
As for its infamous reputation, is the Eshima Ohashi Bridge truly the world's most intimidating structure of its kind? Despite its awe-inspiring visage, it seems the bridge doesn't make the cut for the top five most fearsome bridges worldwide. This revelation is a powerful reminder that perspective plays a significant role in shaping perceptions and that reality may often be far less daunting than it appears in carefully curated snapshots. So, while the Eshima Ohashi Bridge may appear as a roller coaster ride fit for daredevils, in reality, it is a testament to innovative engineering and a vital lifeline for local communities.