Two hikers, never-to-be-married fiancés Elsa and Olaf, are trekking through the Chattahoochee National Forest in 1985 Georgia. The sun is shining down on the lush greenery, and the sound of birds chirping fills the air.
"Elsa, look," says suddenly Olaf, a bespectacled red-bearded free spirit, pointing toward a nearby clearing. Elsa, cattleman-hatted and Dutchly gorgeous, follows Olaf's gaze and sees what appears to be an American black bear, standing on its hind legs, its thick fur glistening in the sunlight. "Quick, get the camera," she gasps. "Oh my, I've always wanted to see a bear in real life!"
Through the camera lens, Olaf sees the bear, a mighty beast, scratching its back against a stout trunk. Soon after, with the shutter clacking crisply, he's met with a much odder sight—the bear ramming its head into the tree, ferociously, as if trying to knock it down.
"What do you see?" asks Elsa, guffawing. "I think it's demented or something," replies Olaf, his eyes off the zoom but still fixed on the bear, his guttural, trilling-heavy English accent tinted with well-founded concern. It's a dangerous bear, the one they've encountered, but it's not demented. It's high. On cocaine.
Cocaine Bear, the movie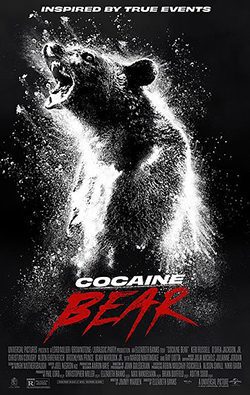 What we just described above is the second part of the dual opening scene of Cocaine Bear, a mainstream horror-comedy starring Keri Russell and Ray Liotta (among others) which, charmingly ineptly, blends the exaggerated scares of classic monster movies with the dark, offbeat humor of a Coen Brothers feature.
Directed by Elizabeth Banks in her third outing (Charlie's Angels, Pitch Perfect 2), and released in the United States on February 24, 2023, by Universal Pictures, Cocaine Bear is a film one has to see to believe it was ever made—and then never forget it was.
"There will be Before Cocaine Bear and After Cocaine Bear," wrote Christy Lemire for RogerEbert.com on the day of the movie's release. "This is how we will mark time from now on as a society. That's how transformative this motion picture is… Cocaine Bear will bring people together. Cocaine Bear will save cinema."
True to fact, Cocaine Bear is a campish blast, a parody-like grotesque, a cult-favorite-at-conception—and not just for B-movie enthusiasts. Per its official synopsis, it tells the story of a 500-pound black bear with a bad habit, who goes on a "a coke-fueled rampage for blow and blood," after having ingested "a staggering amount of cocaine."
In the movie, the Olaf and Elsa sighting from our introduction marks the beginning of a bizarre and grisly chain of events which finds "an oddball group of cops, criminals, tourists, and teens converging in a Georgia forest," and eventually leads to "a total kill count of 11 and disembodied limb count of 4 ⅖ (four limbs and two fingers)."
"A big stretch," quips Backpackers' Emma Veidt, "from the real bruin's kill count: zero, unless you count the bear itself." But let's not allow this blatant discrepancy to distract us from the other thing the sentence reveals—as fictionalized a bloodfest as it may be, Cocaine Bear is, indeed, inspired by a true story. A flat-out incredible true story.
The brief, wondrous life of Pablo Escobear, a real-life cocaine bear
It was an unremarkable November day in 1985, and Pablo Escobear—or, rather, Pabla, for the animal was a she—was probably going about her usual bear activities for the season. She might have dozed off in a cozy spot, gone hunting for a meal, or simply explored her nearest surroundings. Her day took a drastic turn for the worse when she stumbled upon a duffel bag containing 40 plastic bags of cocaine. Oblivious to the nature of the pungent white powder, she tore open each bag and consumed the contents in one fell swoop. She died soon after.
Presumably, just a few days later, a hunter discovered the dead 175-pound (80 kg) black bear in a remote area of Chattahoochee National Forest. Not far from the bear's body lay the telltale duffel bag, now empty, and several plastic bags are torn apart. Oddly enough, the hunter chose to keep his discovery a secret, and it wasn't until three weeks later, on December 20, 1985, that a game and fish agent caught wind of the incident and informed the Georgia Bureau of Investigation (GBI).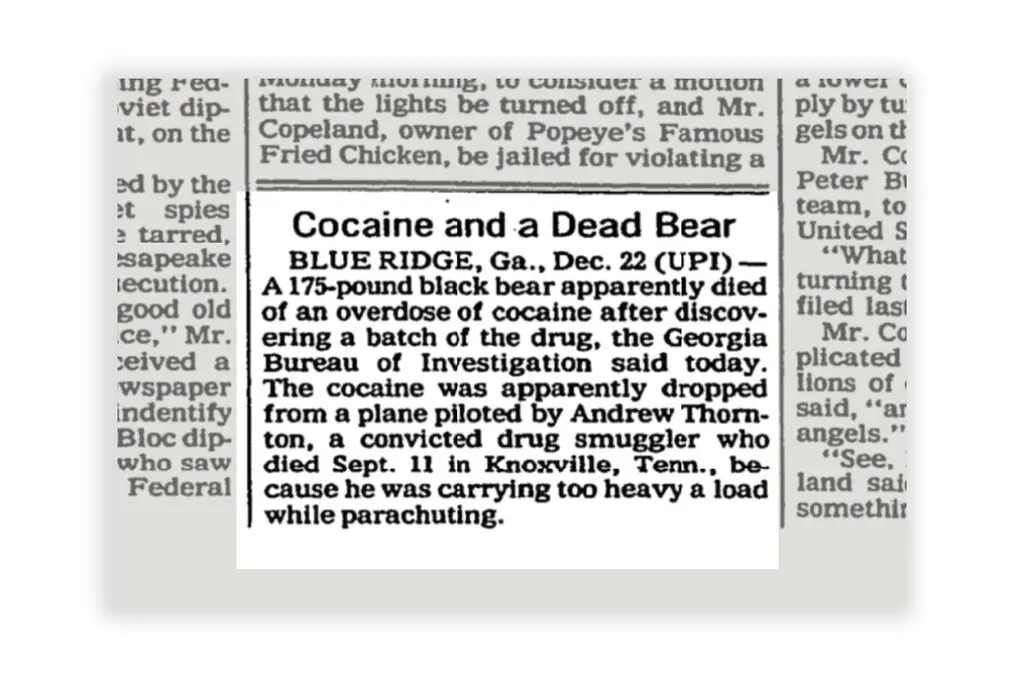 Two days later, the following three-sentence article from United Press International appeared on the pages of The New York Times:
A 175-pound black bear apparently died of an overdose of cocaine after discovering a batch of the drug, the Georgia Bureau of Investigation said today. The cocaine was apparently dropped from a plane piloted by Andrew Thornton, a convicted drug smuggler who died Sept. 11 in Knoxville, Tenn., because he was carrying too heavy a load while parachuting. The bureau said the bear was found Friday in northern Georgia among 40 opened plastic containers with traces of cocaine.
At this point, it may seem as though we've reached the anticlimactic conclusion of a somber wildlife tale, but hold onto your hats, because things are about to take a wild turn. And that's because we'll introduce you to the other dead guy in our story, former narcotics officer Andrew Carter Thornton II, a larger-than-life character if there ever was one.
The life and crimes of Andrew Carter Thornton II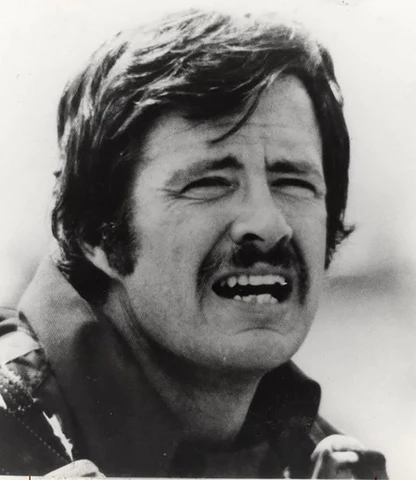 Born into a wealthy Kentucky family, Andrew Thornton was raised on Threave Main Stud, a thoroughbred horse farm in Bourbon County. Blue-blooded for generations, he was educated at the private Sayre School in Lexington, and later transferred to Sewanee Military Academy, graduating in 1962.
Following a semester-long stint at the University of Kentucky through the Reserve Officers' Training Corps (ROTC), Thornton made the decision to trade academia for adventure, dropping out to join the Army as a paratrooper for the 82nd Airborne Division. He showed courage and valor during the 1965 U.S. invasion of the Dominican Republic, earning a Purple Heart for his efforts.
Upon his departure from the Army, Thornton made his way to the Lexington-Fayette Urban County Police Department in 1968, where he found himself in the role of a narcotics officer. However, it didn't take long for his colleagues to realize that he wasn't your average law enforcement officer.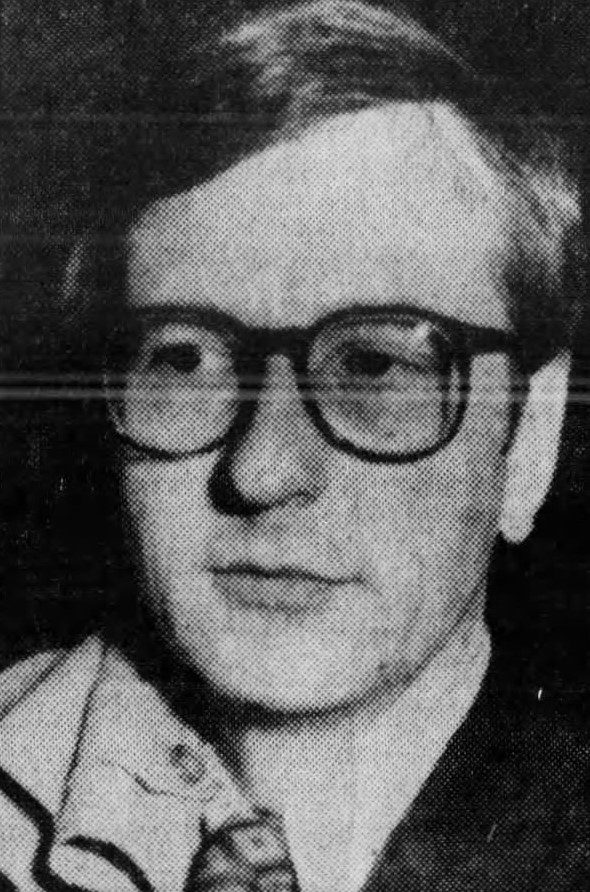 With a swashbuckling demeanor that evoked the daring exploits of Starsky and Hutch and the bravado of a paramilitary James Bond, Thornton was the ultimate renegade cop. He eschewed conventional methods for high-speed car chases and bold, unorthodox raids. And he lived as brazenly as he worked, indulging in a flamboyant lifestyle that matched his daring reputation.
Thornton's thirst for adrenaline eventually led him to the world of drugs—"a natural transition" for someone like him—where he finally found the thrill he craved. Already by the early 1970s, he had begun to skim drugs off the busts he made, amassing a vast fortune from the illicit enterprise.
Later, he joined forces with his childhood pal Bradley Bryant and fellow cop Henry Vance to establish "Executive Protection, Ltd."—a private security firm that was in reality just a façade for a massive drug and arms smuggling ring, one of the largest in America's history. Nicknamed "The Company," it was a criminal empire that reaped untold wealth and power.
A fall from grace: Thornton's last mission
Thornton—nicknamed "Drew" after his name, and "Slick" after his demeanor—possessed a rare set of skills that made him indispensable to "The Company." A master of martial arts and an expert sky diver, he was the go-to pilot for the organization, responsible for transporting massive shipments of cocaine and cash between South America and the United States.
With unwavering aplomb, he managed to elude the authorities for years, going as far as to even disappear into thin air in the summer of 1981, as the rest of his cohorts were being hunted down for their involvement in a string of "vendetta deaths," all linked to Thornton's various enterprises. His luck, however, finally ran out four summers later when fate caught up with him mid-flight, ending his successful run as a high-flying smuggler.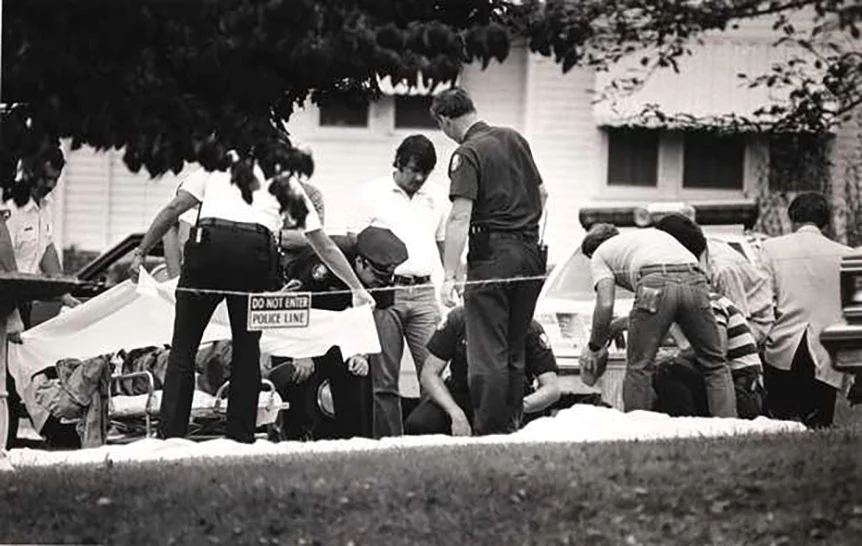 The seeds of Thornton's tragic end were planted on September 9, 1985, when he set off on a fateful mission to transport a whopping 900 pounds (400 kg) of cocaine from Colombia to the United States in no less than 12 duffel bags. His trusted karate instructor turned bodyguard, Bill Leonard, was along for the ride, blissfully ignorant of the true nature and objectives of their illicit flight.
As their Cessna twin-engine 404 soared over the Florida sky, the pair heard federal agents talking over the radio about following their plane. With a heart-pounding sense of urgency, Thornton ordered Leonard to jettison three parachute-affixed cocaine-full duffel bags out of the plane's open door. He then tied some of the remaining cocaine to his body, along with a nylon bag containing two pistols, several clips of ammunition, a survival knife, special night-vision goggles, some food rations, and $4,500 in cash.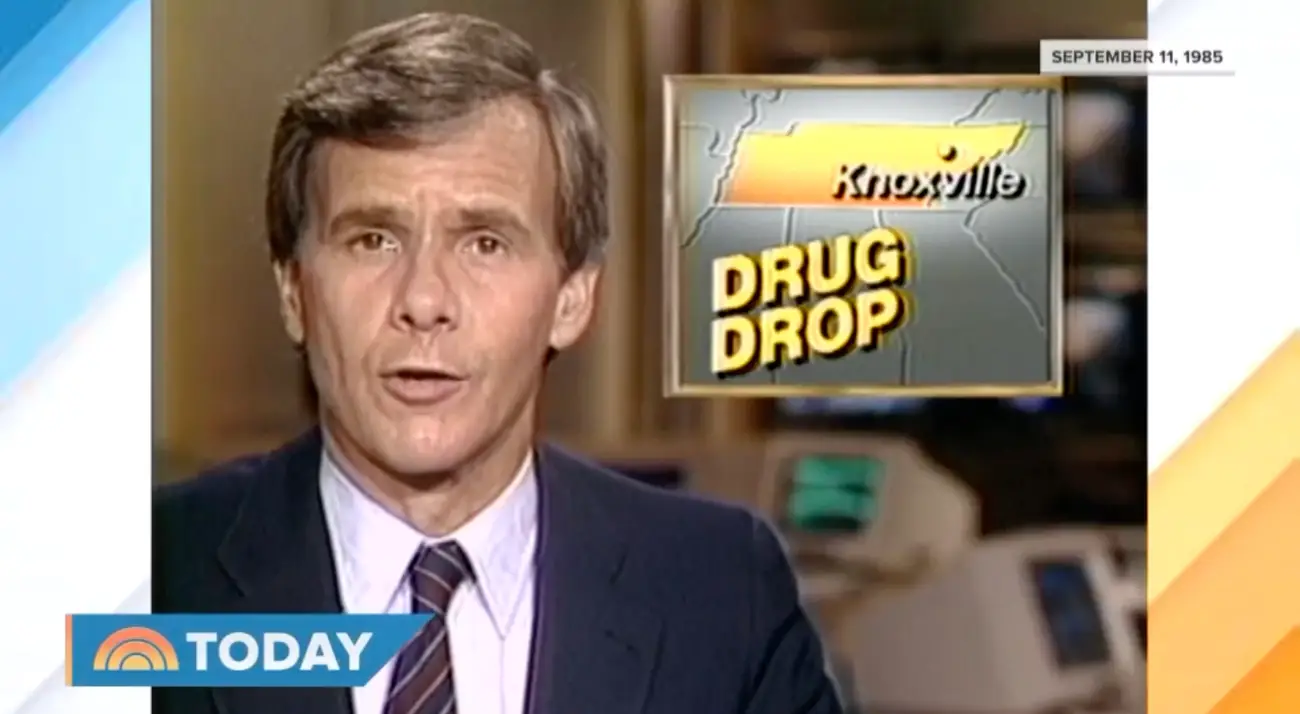 With the plane on autopilot, Thornton gave Leonard a hasty skydiving tutorial before leaping out of the aircraft. His parachute, however, failed to deploy properly, and so he plummeted to his death in a Knoxville yard, in the wee hours of September 10, 1985. The following morning, Thornton's lifeless body was discovered next to a fortune in contraband—77 pounds (35 kg) of pure cocaine worth around $14 million. Even in death, his style was undeniable, from his dashing horseshoe mustache to the designer Gucci loafers.
The authorities had a hunch that Thornton may have had more than the cocaine he died with, so they embarked on a mission to find it. Their persistence paid off when they stumbled upon some 220 pounds (100 kg) of white powder dangling from a parachute in a tree in Georgia. Months later, more duffel bags were discovered in the Chattahoochee National Forest. A dead bear was found nearby; it didn't take long for the investigators to put two and two together.
Pabla's peculiar posthumous adventures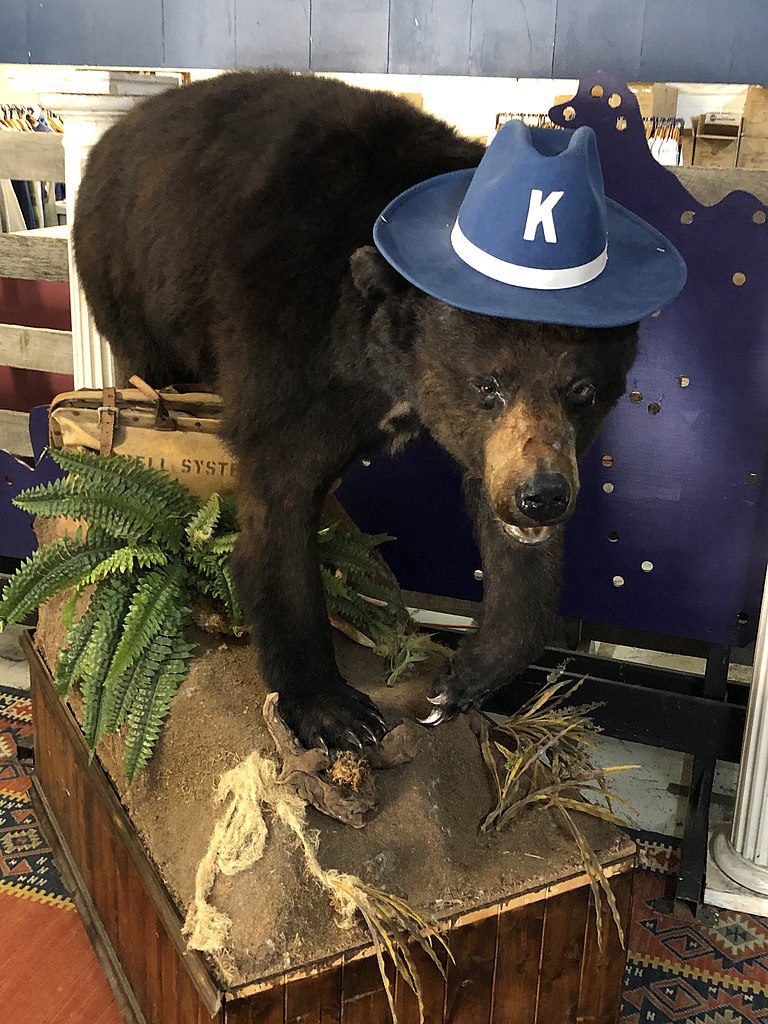 After Pabla Eskobear's death, the results of the necropsy left little room for doubt. According to a medical examiner, "Its stomach was literally packed to the brim with cocaine. There isn't a mammal on the planet that could survive that." The cocaine had wreaked havoc on the bear's body, causing a cascade of medical issues, including "cerebral hemorrhaging, respiratory failure, hyperthermia, renal failure, heart failure, stroke. You name it, that bear had it," the examiner concluded.
In a bizarre turn of events, however, Pabla's journey didn't come to an end with her untimely demise, not in the slightest. At least as per the Kentucky for Kentucky website, her legacy was preserved when the medical examiner gifted the body to a taxidermist friend. With meticulous care, the taxidermist breathed new life into Pabla and found a fitting home for her at the Chattahoochee River National Recreation Area.
During the 1990s, a forest fire threatened to engulf the building, so the stuffed bear had to be moved to temporary storage in Dalton. It wasn't long before it was reported stolen, along with a few other prized possessions. Months later, some of the stuff was recovered from a Nashville pawn shop—but not the bear. As it turned out, only decades later, the furry celebrity had already been sold to none other than the country music legend, Waylon Jennings!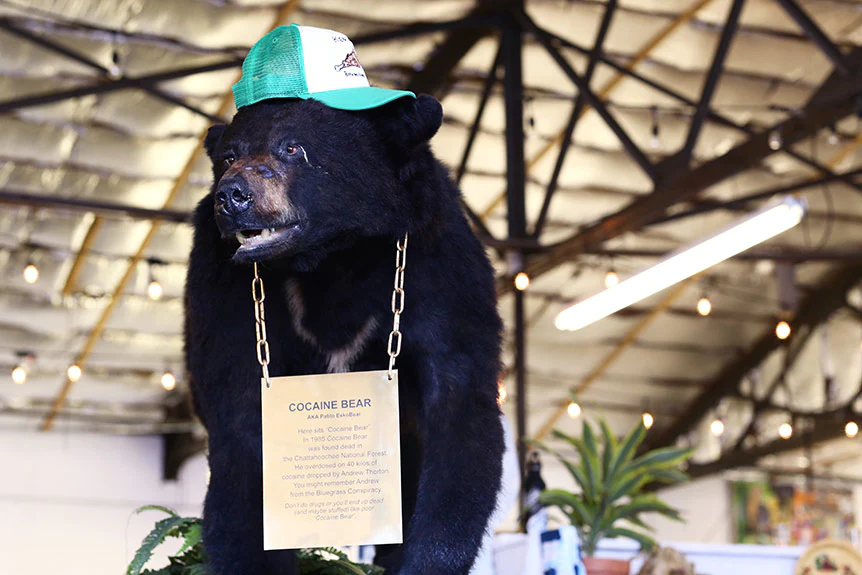 Jennings gave Pabla to a friend of his, Ron Thompson, a notorious purveyor of luxury experiences in Las Vegas. Thompson allegedly housed the stuffed bear in his opulent mansion for years, creating an unlikely scene of excess and indulgence. But what's even more astonishing is the fact that Thompson had ties to Andrew Thornton—yes, the very same man who smuggled the cocaine that ended up killing Pabla! The coincidence is almost too unbelievable to be true.
After Thompson passed away in 2009, much of his estate was put up for auction, and that's how the infamous cocaine bear ended up in the hands of an elderly Chinese man named Zhu T'ang, a resident of Reno. Due to his wife's disapproval of the unusual purchase, T'ang couldn't bring Pabla back home with him, so he chose to put her on a permanent display in his traditional Chinese medicine shop, where the bear became a source of intrigue for passersby, drawing the occasional curious gaze for a while until T'ang himself passed away in 2012.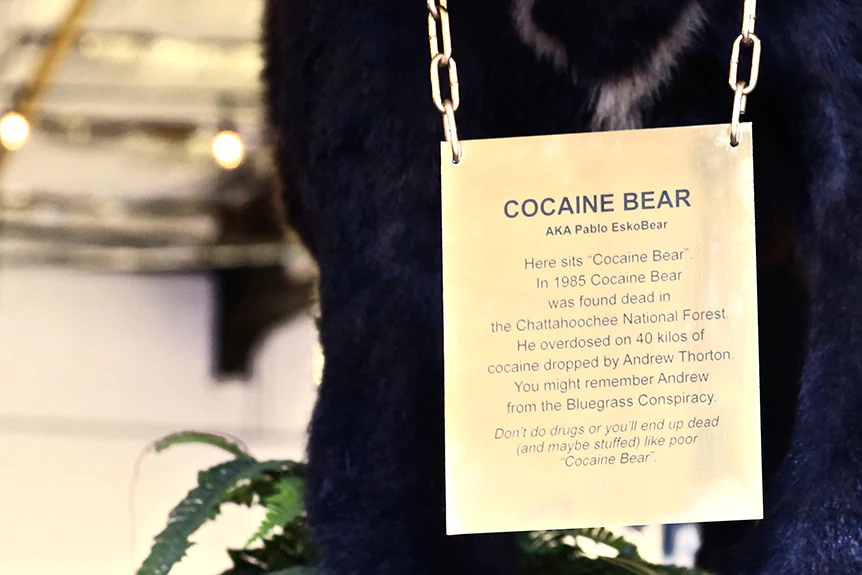 Fast forward to three years later, and Whit Hiler and Griffin VanMeter, fans of all things Kentucky and founders of the Fun Mall, traced the unlikely whereabouts of the cocaine bear. With little effort, they convinced T'ang's wife to donate the bear to their collection. And so today, Pabla resides at the Kentucky for Kentucky Fun Mall in Lexington, sporting a tacky cap that switches up in style now and then, and serving as both a beloved Kentucky icon and a warning to all who enter. Hung around its neck, a simple message reads, "Don't do drugs or you'll end up dead (and maybe stuffed) like poor cocaine bear."
The story never told: a brief coda of non-negligible importance
The story has one final—and somewhat overlooked—twist. To begin with, most of the second part isn't even true. The odds of the cocaine bear exhibited in Lexington being the very same bear that suffered its tragic fate in Georgia in 1985 are virtually nonexistent. The afterlife of Pabla is entirely invented.
The New York Times, by their own admission, couldn't independently disprove the story—dutifully reported by every media outlet out there as gospel truth—but it's really not even difficult to do that. ″The bear got to the drugs before we could," Gary Garner of the GBI told the Associated Press in December 1985. "She tore the duffel bag open, got her some cocaine, and OD'd. There's nothing left but bones and a big hide." Well, then again, it was a warm fall in Georgia in 1985, and four weeks had passed before the bear's body was found.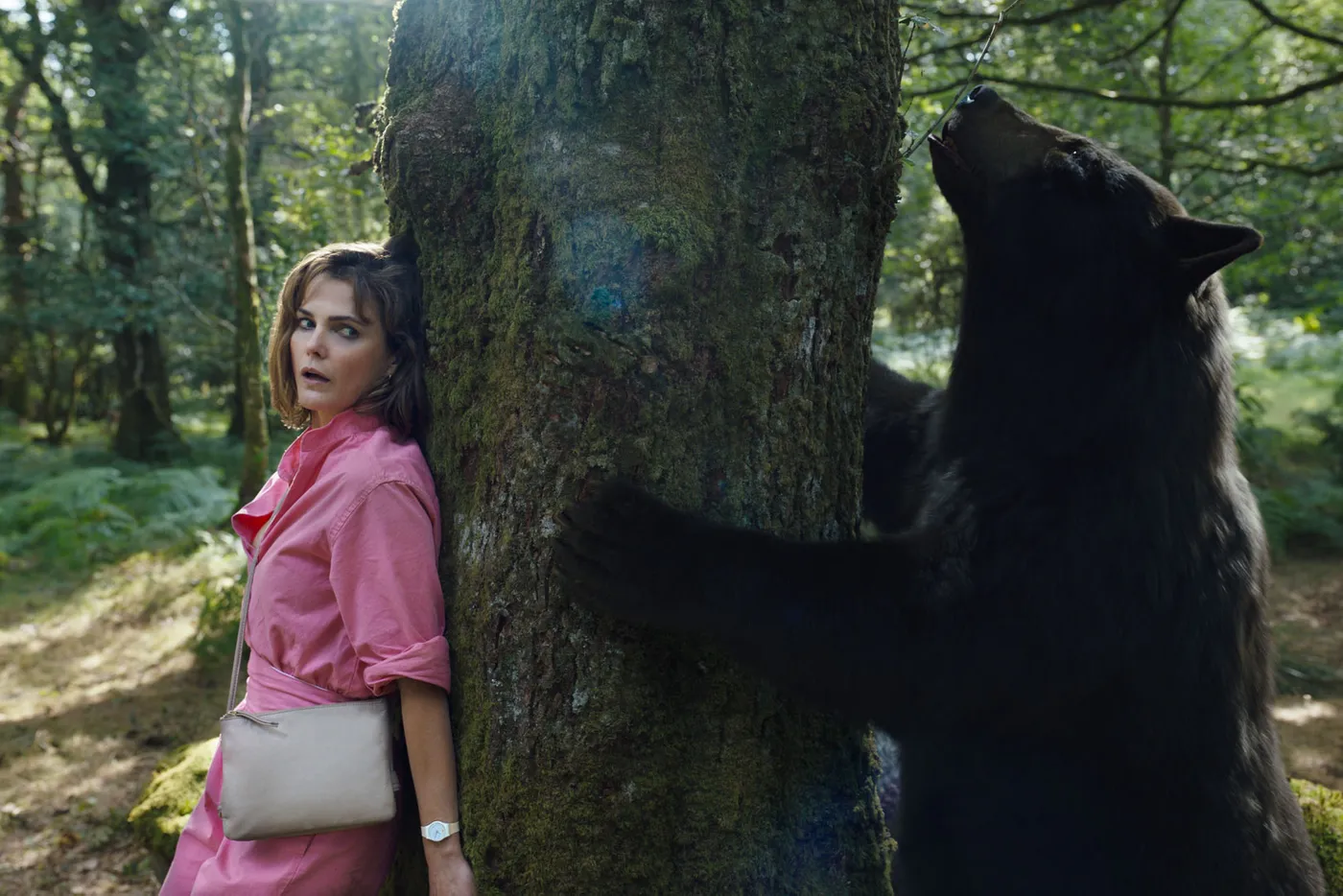 So, that Ron Thompson/Andrew Thornton coincidence? A fanciful fabrication. And the Waylon Jennings involvement? Entirely made-up. Even that widely circulated quote about the bear's stomach being "literally packed" with drugs is not completely accurate either! True, Pabla did eat a lot of cocaine—and died because of it—but at the time of her death, there were no more than 3 or 4 grams of the substance in her bloodstream. According to Fran Wiley, a retired GBI agent who worked on the original case, that's precisely as much as the bear might have found: three or four one-gram Sweet 'n Low-like packets. Contrary to some sources, Wiley claims that when the authorities found Pabla, there was no cocaine near her.
To make matters even more interesting—and quite sinister too!—a 1991 paper, signed by the pathologist in charge, Georgia State Crime Lab's chief medical examiner Dr. Kenneth Alonso, stated that the autopsy of the "decom­posing carcass" of Pabla had "demonstrated conclusively that the animal's consumption of drug was insufficient to explain the absence of 75 kg of cocaine from the drop zone."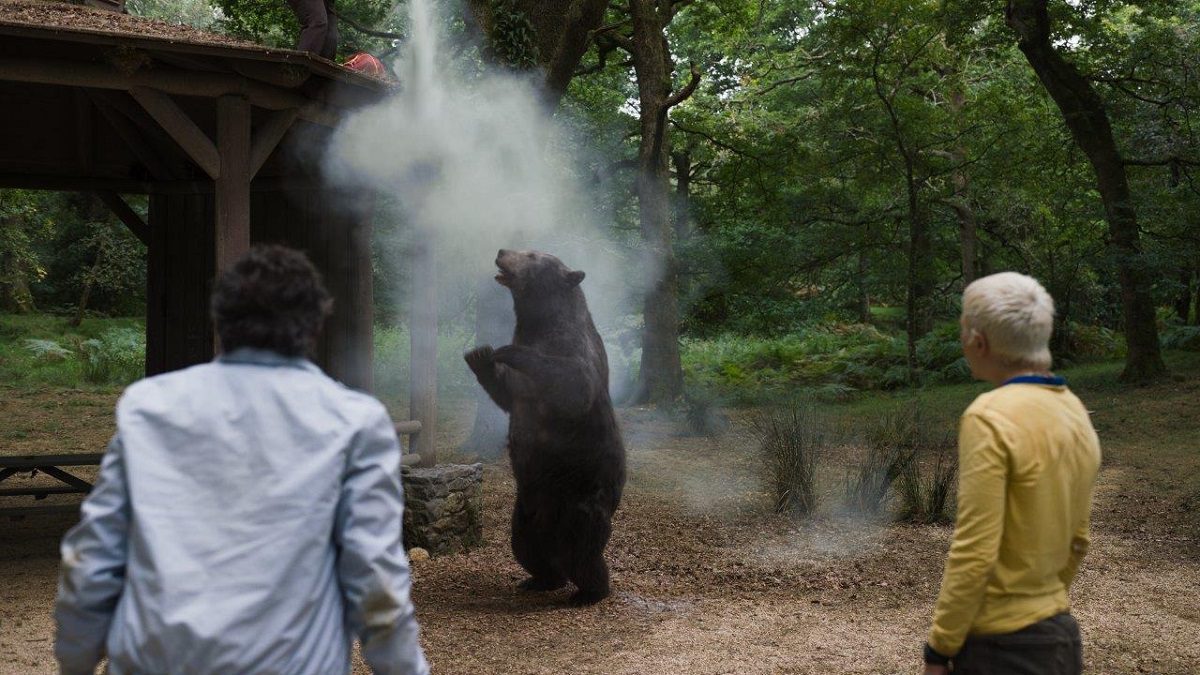 The revelation, seemingly slight, leads to the possibility of cover-up or theft of at least some of the cocaine that was dropped from Andrew Thornton's plane in September 1985, worth millions of dollars. The chance that someone—or perhaps even a group of people—got their hands on the missing drugs adds a new layer of intrigue to the already bizarre story of the cocaine bear.
No wonder it continues to endure and grip the imagination of those who hear it, Elizabeth Banks avowedly not excluded. She was drawn to direct Cocaine Bear because she saw it as a chance to give the bear a voice and perspective of its own, turning the sad story into a "metaphor for the chaos" all around us. "I felt a deep empathy for the bear," she explained in a recent interview with Variety. "I really felt like this is so messed up that this bear got dragged into this drug run gone bad and ended up dead. I felt like this movie could be that bear's revenge story." It seems like an understatement to say that it is.