If you Google the term 'Snowlandia' from the UK, your initial results will relate to a boarding kennel and cattery in York, England. We want to make this clear, whilst they're probably very nice people, they have not built the world's largest ice labyrinth. That'd be crazy, it's a completely different business model, and the dogs would inevitably get lost.
No, the claim for building a monstrously huge snow labyrinth, or Śnieżny Labirynt, can be credited to some fine people in Zakopane,  southern Poland.
The Snowlandia ice labyrinth opened in January 2016 and has proven to be a smash hit, with thousands of visitors trying to navigate the treacherous snowy maze with its 2-meter-high walls.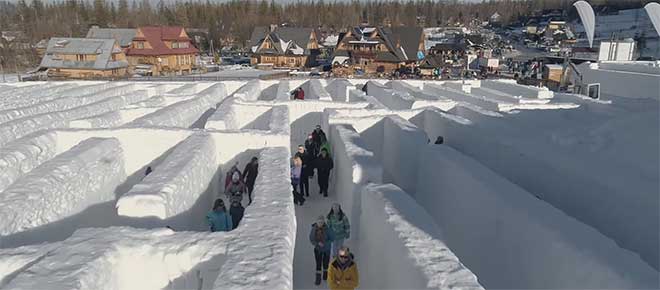 The first Snowlandia ice maze covered an area of 2500m² and took 40 workers over a month to build in sub-zero temperatures. A staggering 60,000 ice bricks were hand-cut and used in a construction that featured a 14-meter-long entrance tunnel.
Maze architects Darek Pytlik and Artur Haber encountered some serious challenges during construction. Pytlik stated, "There were many sleepless nights. Then we found a good team to work with. Most of them are professional builders, so they are good in their roles".
Artur Haber came up with the original idea with his friend Jarek Sitarz, who runs the local ski lift. Haber explains, "Some people ask us if we are not crazy when undertaking such a big undertaking, since it is known that this building will not last more than 40 days". However, the fact that the labyrinth only lasts for 40 days has not deterred Haber and his team from scaling new heights. The hardy maze builders have set a new standard this season and created an even bigger snow maze covering 3000m².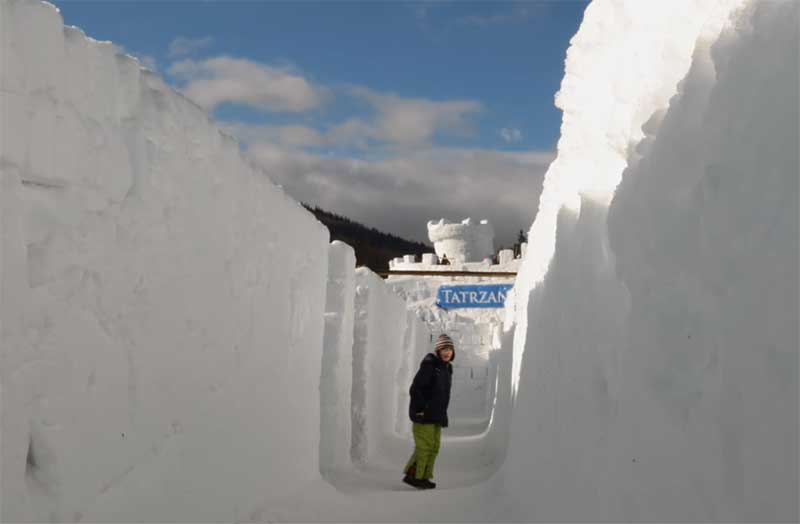 Only two hours away from the city of Kraków, the Snowlandia ice labyrinth is the perfect excuse to get some 'me time' on a day out with the family. Just make sure you visit in Winter!