Parking at the supermarket, motorway service station, and shopping mall just got that little bit trickier in China. Unless, of course, you're a woman. If you're female and roll up to motorway services in Jiande or Tonglu, then it's your lucky day. The two counties have just implemented oversized parking spots (150% larger than normal), furnished in bright pink and highlighted with the outline of a stiletto high-heel shoe. So, not patronizing in the slightest, then. The eye-catching parking spaces can be found in Zhejiang province, Eastern China.
Service stations in Jiande and Tonglu are not alone in their enthusiasm for catering to the parking needs of female clientele. Designated women-only parking areas have also been sighted at shopping malls from Hebei to Chongqing.
Read more: How On Earth Did Woman Swallow $7,000 During Fight With Husband?
So what's the problem? A debate has been raging on Sina Weibo, a Chinese micro-blogging platform with over 340 million users. Whilst a survey carried out on the site gave the scheme a 63% approval rating, some users were not convinced. One user Nanyabianfu broadcast her disapproval by commenting, "It is frankly discrimination against women."
Company fall-girl Fang Hongying, supervisor of the Jiande motorway service area, defended the move and denied that poor driving skills were the sole reason for creating the larger spaces.
"The women's parking spaces are closer to the exits and monitoring systems, which is more convenient for female drivers to take a break or go shopping in the main building, and much safer, especially at night," she chirped.
Other countries have also incurred severe frowns with similar parking schemes. Executives at Moscow airport were labeled sexist when they introduced similar super-sized spaces last summer. Again, pink was the color of choice, with the stiletto design also prominent.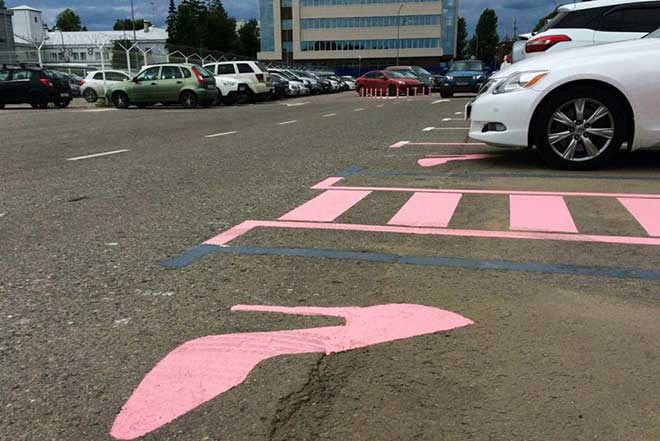 Defending the scheme, airport chiefs claimed the spaces were larger to help mothers with young children.
Read More: The Original Fake Mermaid