The Bearpit Karaoke sessions that take place in what used to be Berlin Wall's death strip are quickly winning the hearts of every nature and music lover in Berlin. This open-air phenomenon came into existence thanks to one genial Irish cycle courier who had a dream: To give people the possibility of discovering the artist inside themselves and have fun doing it!
The Bearpit MC
Bearpit organizer Gareth Lennon, who goes by the name of Joe Hatchiban, is a 35-year-old courier hailing from Dublin, Ireland. Hatchiban had been living in Berlin for a number of years before he came up with his karaoke brainwave in 2009. Investing $2,400 in his 'day job,' Joe expanded his work opportunities with a specialist Larry vs. Harry courier bike, which is designed to take cargo. After purchasing his new bike, he decided to throw, as he calls it, a "pretty primitive" version of the current event. Hatchiban had long been a "karaoke hobbyist" and was thrilled when people started showing an interest.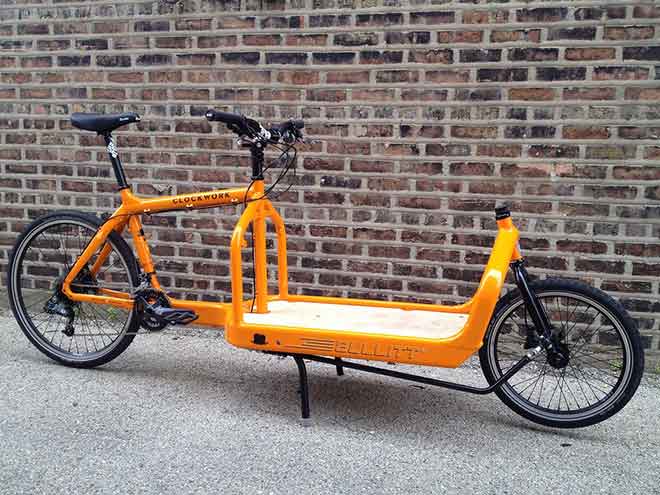 Bearpit Karaoke in Mauerpark
So what does a regular Sunday look like in the Mauerpark today?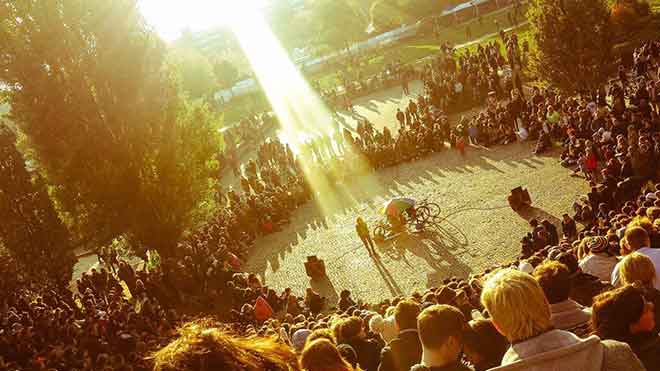 The crowd goes wild as a skinny man in the black T-shirt faces the crowd and announces he will be doing a cover of "Hips Don't Lie." They don't know what to expect at first, but when Andre starts shaking his hips, even sounding a little bit like Shakira, everybody will obviously have a good time—and a good laugh. You might think Andre had a little something before getting on the stage, but he's drunk on the atmosphere.
Read more: Mexican Herder Wins 31 Mile Ultra Race In Skirt And Sandals
Actually, none of the performers are drunk or intoxicated in any way. The reason for this is that Hatchiban doesn't want this to turn into that kind of karaoke. "It's just that it's a little different from other manifestations of karaoke," he says. "You know, there isn't that person, drunk out of their minds, who sings 'My Way' until 6 a.m. Or the competitive karaoke singer who just wants to nail their song. It's more of a day out."
The Bearpit Karaoke is held on the edge of Berlin's biggest flea markets in the Prenzlauer Berg neighborhood, an urban district of Pankow. Around 2,000 exhilarated people turn up to watch these aspiring and sometimes eccentric artists. Visitors and performers alike gather around a small amphitheater built into the hillside in Berlin's Mauerpark. The amphitheater is located on the former path of the Berlin Wall's death strip.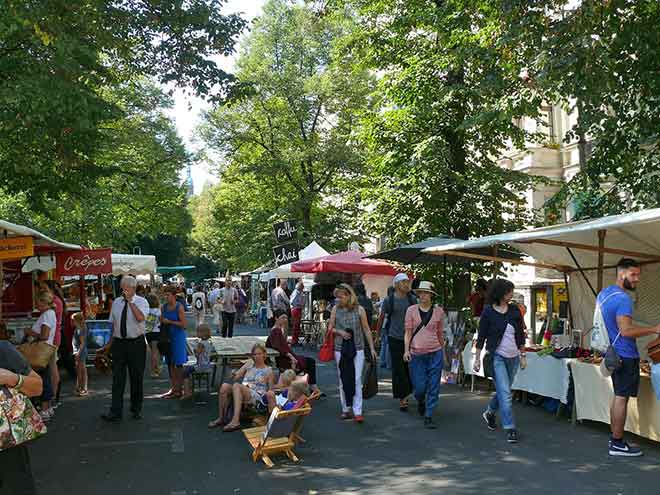 Family atmosphere
Thanks to the nature of the event, there have never been any problems with the crowd. "Very rarely have we had anything approaching serious problems," says Hatchiban. "It's just things like someone wanting to sing again when there are already 40 people on the waiting list." People who come to karaoke mostly come for a chill afternoon and a good time.
Hatchiban himself enjoys the event immensely. "I still get the same feeling every time anyone comes up to sing," he says. "I'm always curious to see what happens next." With a smile on his face, he recalls the weekend after pop star Michael Jackson died: "There were some children who had been dancing to Michael Jackson, then another guy was singing. Then someone else started dancing too, and people from the audience just started getting up spontaneously and joining in. And everyone was screaming."
So if you want to sing along with the happy crowd, better hurry up. Hatchiban is not sure if he can keep the karaoke going during winter. "I don't think I will be able to coax a thousand people out in the driving rain for six hours in November," he says. He has been looking into other ways to keep the karaoke going over winter, but after experiencing Mauerpark, nothing feels equally awesome. Besides, he doesn't want to do something that's already been done. "I like the idea of putting on shows in strange places," he says. He's also thinking about expanding the idea outside of Germany.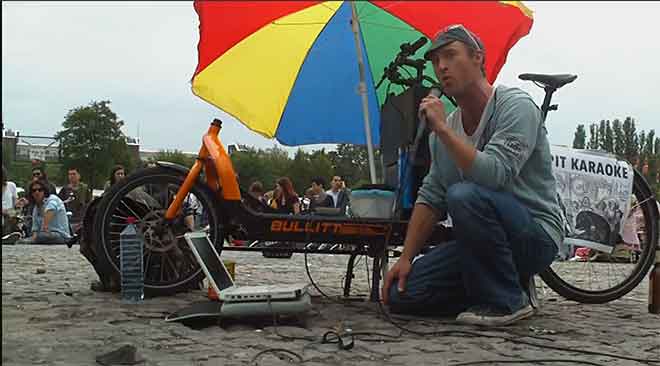 Hatchiban is proof that money is not everything. He's making some money, but just enough to balance things out. Singing enthusiasts don't have to pay to attend or to perform. However, the mastermind of fun sometimes leaves his post next to the speakers and passes a donation box around. So what's in it for him if not money? "A good time," he says. "I just like the atmosphere that seems to prevail down there on Sundays. It still gets to me every weekend. It's a very good atmosphere, laid back, and really happy, and I love that."
No Wonderwall on the Berlin Wall
This spectacle in Mauerpark attracts all different kinds of people. "We've had everyone from 11-year-old kids to grannies. Even one or two Berlin anarchists," Hatchiban laughs. Understandably, not everyone listens to the same type of music, so the repertoire gets pretty colorful. Hatchiban has karaoke CDs he bought online, which he then plays on his laptop, with lyrics on the screen. However, people usually choose songs that they particularly like, so the lyrics aren't even necessary.
Read more: Surfer Outruns Mother Of All Waves In Nazaré
Even though he understands that different people like different things, Hatchiban had to ban certain songs because it became pretty annoying hearing them play more than once a day. These songs include Britney's all-time favorite, "Baby One More Time," and Oasis' "Wonderwall." Seriously, you can't blame the guy.
Curtain call for Bearpit Karaoke
The Bearpit karaoke has been a favorite Sunday pastime for the many visitors of Mauerpark in the past four years. However, a recent decision by the local council could shake things up and make it impossible for Hatchiban to keep up with hosting the event. Council officials have tripled prices for the permit and have stated that the shows can only be held on 12 specific dates during the summer, which might not work for Hatchiban since, first, he really doesn't make that kind of money, and second, if there's rain, the whole deal is off for the day.
The popularity of the karaoke has not been enough to convince the council to let things continue as they are. "Special permits for events such as karaoke are only licensable when they are in the public interest," said Peter Lexen of Pankow council. According to him, the location is primarily a park, and the recreational needs of all visitors must be taken into account. "Events in a park are an absolute exception," he says. However, even though people do come here for a day in the park or to check out the large flea market adjacent to it, the karaoke is definitely a huge attraction.
Want to sing at the Bearpit Karaoke?
If singing in front of 2000 people sounds like something you don't want to miss, just come to Mauerpark, raise your hand when Joe is looking for volunteers, and wait for your turn!
During summer, the karaoke can be held every day, but a session can get canceled if the weather gets colder. Keep an eye on the official Bearpit Karaoke Facebook page and Joe's own Bearpit Karaoke website.