Jetpack Aviation and A.L.I. Technologies have released flight-tested models of their flying motorcycles. A.L.I. Technologies' version will be commercially available early next year, with Jetpack Aviation's to follow in 2023.
Is there really a flying motorcycle?
Two, in fact. Because competition for regular road vehicles clearly isn't exciting enough these days. U.S.-based Jetpack Aviation and Japan-based A.L.I. Technologies are both racing to sell the world's first flying motorcycle.
What are they good for?
Jetpack Aviation dreamt their model into existence to provide the military and government with additional ways to save lives. A.L.I. C.E.O. Daisuke Katano, however, envisions their version being used for a new leisurely, floating lifestyle (although he admits they would be pretty helpful to rescue people on the ocean). Despite different reasons for their conceptions, both companies have conducted intensive testing on their crafts to ensure they're as safe as possible.
What is the flying motorbike called?
A.L.I. Technologies' "XTurismo"
Famous for their drones, A.L.I. Technologies have taken that same technology to the next level with the XTurismo. Setting off from a remote race track in the idyllic Oyama, Japan, their pilot nonchalantly flew the sleek black and red hoverbike (which looks similar to modern sports cars) up and down the track to display the smooth flying capabilities during their most recent successful test flight.
How does it work?
Powering the craft is a hybrid internal combustion engine built off of their hybrid-electric prototype. The XTurismo weighs in at a hefty 300kg, and A.L.I. promises a 40-minute flight at a maximum of 62 mph (100 km/h), carrying one person.
Despite their deafening roar, onlookers weren't dissuaded as the two main propellers fired up on test day, and A.L.I. started taking orders as soon as the demo was over. The world's first flying motorcycle will be available in the first half of 2022. They will only produce 200 hoverbike models and have plans for electric hoverboards to hit the market in 2025 – only a few years later than "Back to the Future" predicted.
The "Speeder" from Jetpack Aviation
J.P.A.'s model, the Speeder, looks vaguely reminiscent of the speeder bikes from Star Wars. J.P.A. plans to produce two versions of their flying motorbike—an ultralight version and an experimental category version.
The ultralight recreational version will be limited to 60 mph (96 km/h) to comply with F.A.A. rules, with a maximum flight time of 15 minutes. The ultralight version will require minimal pilot training and no F.A.A. pilot's license to fly. Instead, all training is provided by Jetpack Aviation or authorized training centers.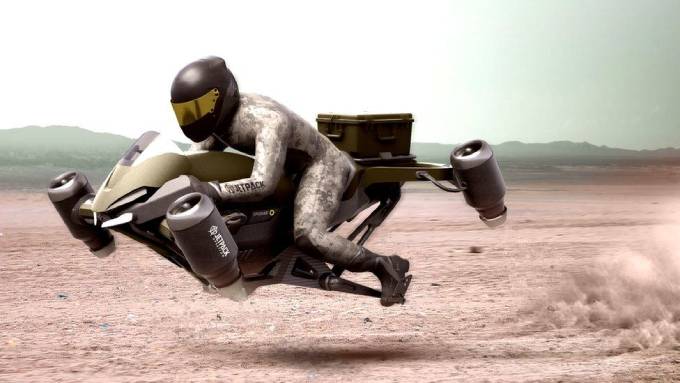 The experimental version has a lot more poke. It was designed for the military and can reach speeds of 250 mph (402 km/h), staying aloft for around 35 minutes. It also comes with storage compartments to carry supplies and detachable wings for an increased range.
How does it work?
Eight turbines will power the consumer and commercial versions instead of the four turbines depicted. Both the ultralight craft and the experimental have two turbines at each corner, which provide safety and stability for the rider and immense amounts of power.
J.P.A. is cutting no corners to ensure the final product is safe for flight and has written a bespoke flight control software program. This intuitive system controls and monitors the thrust from the turbines and automatically stabilizes both the experimental version and two consumer versions. That means the VTOL craft can fly up without tipping the rider off and then land vertically on most surfaces with its automatic landing gear. The pilot steers using joystick-like hand controls during flight and can communicate via the onboard radio system. J.P.A. uses a net-carbon fuel from Prometheus Fuels Inc to power the bike.
How high can the flying motorcycle go?
However, the Speeder (both the military/commercial version and recreational version) can fly up to a stomach-dropping 15,000 feet, despite not requiring a basic pilot's license.
Initial speculation suggested the XTurismo would only hover about 19 inches above the ground. Still, the most recent test footage shows it flying significantly higher, though the exact height isn't yet public knowledge.
How much does a flying motorcycle cost?
Both models fall well within the six-figure category. The XTurismo looks like a supercar and has the price tag to match. People looking to pick this model up will need to fork out an eye-bulging $680,000.
J.P.A.'s Speeder will set buyers back a cool $381,000 for the consumer version, and the experimental cargo version's price is yet to be confirmed.
While we may be a few years away from flying cars, it looks as though you could see other VTOL craft appear soon to open up recreational air travel for all.