Dogs may be man's best friend, but would you buy your best friend a house that costs around $190,000? That's exactly how much a Hecate Verona dog house will set you back.
Luxurious doghouses
This is exactly what the UK's, Cheshire-based design company, Hecate Verona are offering for our furry friends. They offer two-room "mini mansions" that go far beyond the regular doghouses we're familiar with.
Complete with bedroom and a living room, these luxurious doghouses also have treat dispensers, a television, and even a conference calling system. They're also climate controlled!
Read more: Office Cats Compete With Dogs And Goats
The homes come in a range of styles in recognizable glorious architectural styles including Colonial Villa, Spanish Palacio, and a Roman Imperial Mansion. They're constructed with only the highest quality of wood, aluminum, and marble and take around four months to build. No detail is spared either. You can see this in the engravings and ornate pillars! Each doggy mansion is built with your dog's size in mind to ensure they can see out their windows.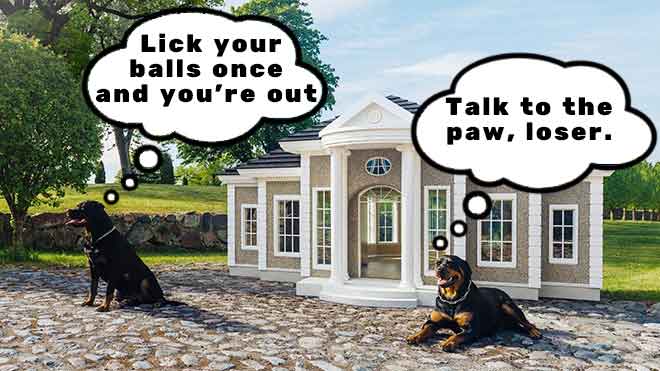 Hecate Verona creative director, Alice Williams, says there's a good reason why our canine pals deserve the same luxuries as their owners, stating, "Our objective was to create a majestic and royal looking dog manor which seeks to complement the garden and the surrounding in which it stands.
"Our customers and their dogs typically live indoors so we see our dog manor as an extra that gives a pet more comfort.
Read more: Firefighters Pig Out On Piglets Rescued From Barn
"It is dog's own house that has all the comforts of an indoor living room, making the whole experience of staying outdoors more fun and enjoyable.
"This leads to the dog enjoying the outdoors even more and staying more active and that is highly recommended by veterinarians."
While making outdoors comfortable is a good idea, many dog owners agree that their dogs don't necessarily need a television or to host a conference call with their doggy friends anytime soon. Would you build a mansion for your dog?