Six months after they saved 18 baby piglets and two sows from a fire at a Milton farm, firefighters from Pewsey in Wiltshire got the chance to sample the fruits of their labor.
"When we arrived at the scene shortly before 10 pm, half of the barn was on fire, with the pigs sheltering in the corner on the other side," the Pewsey watch manager, Mark Hillier, said about the disaster. "The tough bit was getting towards it and then freeing the pigs. Once they were clear, we took a defensive approach to control the situation and let the fire burn itself out."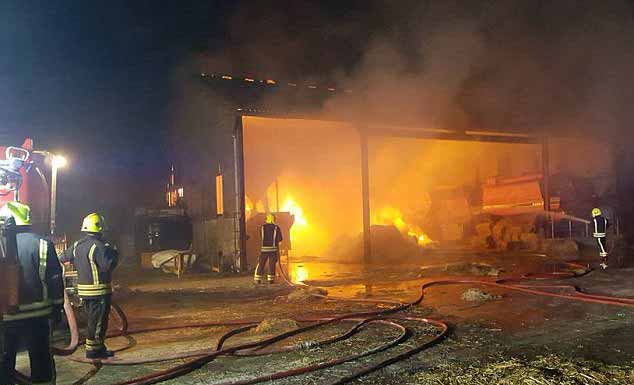 As a sign of gratitude, Rachel Rivers sent the firefighters organic sausages made from the piglets bred at her farm in Milton Lilbourne, Wiltshire, the same ones they saved earlier this year.
Read more: Sicilian Firefighters Accused Of Arson
Absolutely thrilled, the firefighting crew immediately wrote a thank you note on their Facebook site: "Huge thank you to Rachel Rivers for dropping them off for us to sample. Highly recommended by Pewsey fire station crew, and if any of our followers is having a bank holiday BBQ this weekend, check out these sausages. They are fantastic."
However, not everybody was as excited about Rivers' gesture, which caused a real vegetarian outrage. Mimi Bekhechi, Director of International Programmes at People for the Ethical Treatment of Animals (PETA), also had something to say about this: "These poor piglets were no better off for escaping the fire only to be put back into it six months later after being subjected to the horrifying experience of the abattoir."
She even went so far as to say: "What if these firefighters had 'saved' a human child or a dog? Pigs feel fear and pain in just the same way as we do."
It seems like the fact that this is the farm we're talking about completely escaped her.
Nevertheless, the firefighters apologized for their post, which obviously hurt quite a few feelings. However, Rivers didn't think she did anything wrong. "I wanted to thank them," she said. "I promised them at the time I'd bring down some sausages for them, which they were all pleased about." She also added: "I'm sure vegetarians will hate this. We farm, and this is what we do. You can't keep them as pets."
The fire service didn't want to make any further comments.