A doctor in Chennai, India, has thought of a simple solution to help beat hunger in her local community. Dr. Issa Fathima Jasmine, an orthodontist, is passionate about eradicating food waste. Her idea is so straightforward that you wonder why no one thought of it before, a Chennai community fridge.
Community Fridge Hyderabad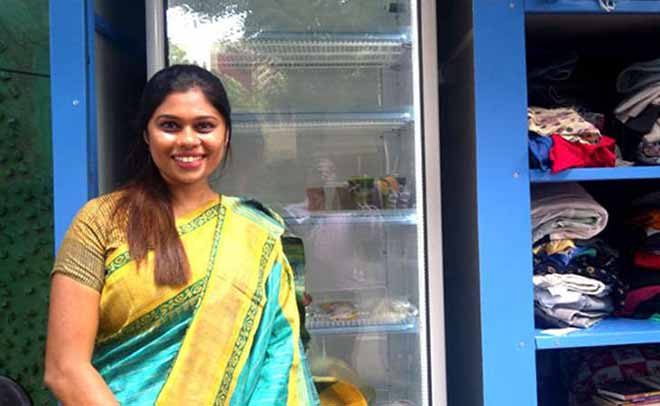 Chennai was voted one of the top ten city destinations in 2015 and has been dubbed one of the 'hottest' cities worth visiting by the BBC. Somewhat ironically, National Geographic ranked Chennai second when compiling a list of cities with the best food in the world. Not plaudits and accolades you'd associate with endemic hunger and the need for a Chennai community fridge.
Read more: Could You Stomach Hongeo?
Figures show that 40% of the food produced in India is destined for landfill and not hungry mouths. That's hard to imagine, so how about this: India wastes the same amount of food annually as the United Kingdom eats. The Global Hunger Index, which tracks and measures hunger internationally, rates India as one of the worst performers in the region, with a 2016 GHI score of 28.5. Although this figure is a marked improvement from previous years, the data estimates that 15.2% of the population remains undernourished.
Food waste is a global problem, though, with estimates that one-third of the food produced annually—around 1.3 billion tonnes is spoiled. In fact, annual food waste in rich countries could feed the entire population of sub-Saharan Africa every year.
Read more: 3d Printed Food Could Be Dripping Down Chins Soon
Sobering statistics, but one local Chennai community is fighting back and is doing its bit to alleviate hunger. Dr. Jasmine has spent $800 of her own money to set up the Chennai community fridge, and the response so far has been very encouraging.
The Chennai district of Elliot's Beach is perhaps better known for its golden sands and imposing memorial. But, if you take a quick stroll along the promenade, past the KFC, and up 4th Main Road, you'll find the Chennai community fridge outside Besant Nagar Tennis Club on the corner of 3rd Avenue. Watch out, though, or you might be sidetracked and enticed by the wares of numerous local eateries. The short 300m stroll from the beach takes you past  Tasty Jones, Dhabba Express, The Thickshake Factory, Hola, Cafe Coffee Day, Westfield, and Cozee.
Access is given to the fridge between 7 am and 9 pm daily. There's also a security guard on hand to ensure everything runs smoothly. Anyone wishing to donate food is asked to label their donation, make an entry in a logbook and provide an expiration date. The fridge also has an adjacent storage area for clothes, books, and children's toys.
Speaking recently, Dr. Jasmine explained, "We all have some amount of food left over every day at our homes that gets wasted. Initially, I used to give it to a lady sitting outside our home. I soon realized there must be others like her who would be benefited by the food." Adding, "I often wanted to donate to others but shied away from asking, thinking it might embarrass them. Many might be needy, but they would not require food."
The Chennai community fridge allows those in need to accept charity whilst retaining their sense of dignity. Although Dr. Jasmine has funded the project, the organization responsible for publicizing community efforts is known as The Public Foundation.
Dr. Jasmine has taken inspiration from Avvaiyar, a famous Tamil poet, and named the fridge 'Ayyamittu Unn', which translates as "share the food with the needy before you eat."
Thankfully, the Chennai community fridge is not a lone initiative. Similar community fridges have been popping up all over India, from Bengaluru to Jaipur, Mumbai, and Gurgaon.