The Land of Oz, an abandoned Wizard of Oz theme park in North Carolina, will open its gates once again for a surprise six days of adventure this June.
For a short time only, visitors will be invited to follow the Yellow Brick Road in real life, guided by none other than Dorothy herself. A third of a mile long, the famous installation is made up of over 44,000 Technicolor-yellow bricks.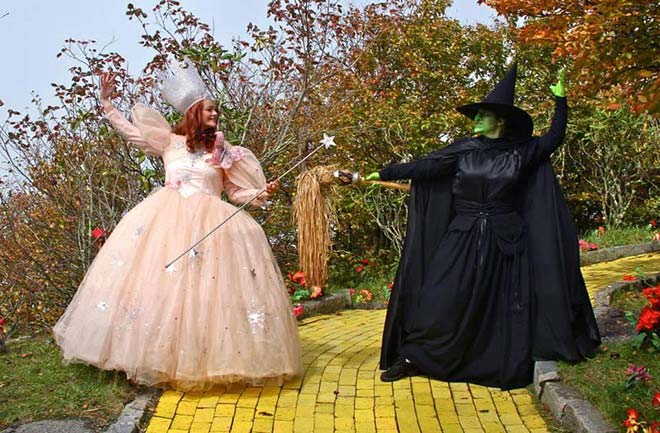 Creepy Wizard Of Oz theme park
But this isn't just a tour. Guests will be called upon to act out scenes at planned stops on the trail, with hats and scripts handed out to those cast as the Cowardly Lion, the Scarecrow, the Tin Man, the Wicked Witch of the West, and the Good Witch Glinda. It's a fully immersive, hour-long theatrical experience and a rare opportunity to get a look inside the infamous park.
Read More: Women-only Parking Spaces Trigger Discrimination Claims In China
The Land of Oz opened to great success in 1970, with over 400,000 visitors clicking their heels down the Yellow Brick Road in its first season. Unfortunately, steep drops in attendance, combined with a fire that destroyed several of the park's attractions in 1975, meant the park went into indefinite hibernation in the mid-1980s.
Strictly speaking, the park never shut down—it has opened for short-term events at sporadic intervals over the last few decades, and park officials strenuously object to the park being called 'abandoned.' This hasn't prevented it from being a popular destination for fans of the fad of urban exploration, or 'urbex,' in which explorers seek out spooky or deserted places. Unfortunately, the fad led to more than a few of the park's iconic yellow bricks being taken home as souvenirs.
Read More: Man Plants Tree-mendous Assam Forest Bigger Than Central Park
The park will be open for the Journey with Dorothy tours every Friday this June and Saturday the 30th. Tickets can be purchased on the Land of Oz's website for $25 (plus taxes and booking fees.)