An advertising agency in Thailand has thought of a creative way to approach the problem of stray dogs. Wanting to help both the dogs and the community, they developed a "smart vest" that could turn stray dogs into the guardian watchdogs of Bangkok.
The vests are kitted out with a hidden video camera, and embedded sensors broadcast live streaming footage when the dog barks, showing what the dog sees through a mobile phone or a computer application. Yes, at times, the dogs simply bark at each other, but the logic here is there is a possibility they could also be barking to indicate something nefarious may be going down. Longshot? Hmm, maybe, but a clever idea if they can get it to work.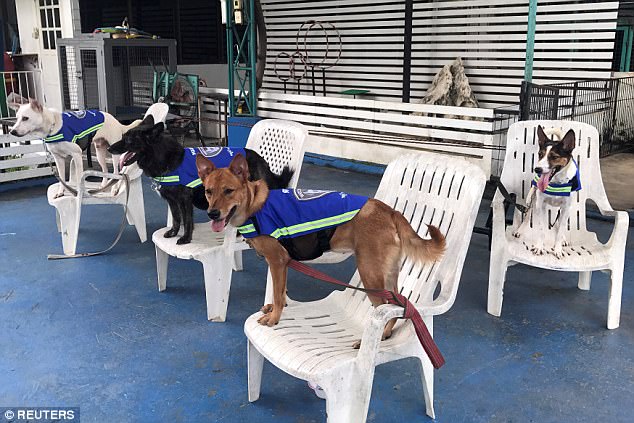 "It will make people feel that stray dogs can become night-watches for the communities," barked Pakornkrit Khantaprap, 28, a creative on the team that spawned the idea at the Cheil ad agency, a part of Samsung Electronics.
Real-life PAW Patrol
"Our philosophy at work is to show how creativity and technology can be used together to help solve problems for the people or society," woofed Satit Jantawiwat, Chief Creative Officer at Cheil.
Martin Turner, the managing director of the Phuket-based Soi Dog Foundation, formed over ten years ago in order to save stray dogs and cats across Thailand, has given the scheme a cautious thumbs-up. But added, "It's too early actually to say how practical the vests are. We really don't know how they're going to work, if they're going to work properly, if the camera angles that we, camera shots, angles that we get are going to be correct?" just to cover all the bases.
Read More: Brooklyn Cat Cafe
Turner says there are many cases of animal cruelty in Thailand, despite the introduction of the country's first Animal Welfare Law in 2014. Break the Animal Welfare Law, and you can be looking at two years in jail and 40,000 baht ($1,205) fine.
These vests will not only prevent locals from harming the stray dogs and help the town in general, but they will also make the poor strays look super adorable in their new blue and yellow vests!
The 'smart vest' project was initiated in March this year and took about five months to be implemented.
However, the vest must undergo more testing before it can be introduced into communities for trial runs. If everything goes as planned, animals and communities should feel better protected.