In the murky underworld of motorcycle gangs, the Hells Angels reign supreme, their name synonymous with fear and notoriety. Established in 1948, they have long stood tall as the most recognizable and commanding member of the infamous "Big Four" motorcycle gangs, alongside the Pagans, Outlaws, and Bandidos. With an impressive membership of 3,000 to 3,600 and 475 chapters spread across 62 countries, they are the undisputed heavyweights of their kind.
As they thunder down the highways on their roaring choppers—donning their signature leather jackets emblazoned with ominous winged skulls, and sporting brawns and beards that could rival the fiercest of Viking warriors—the Hells Angels radiate an undeniable aura of power, menace, and independence. Yet, behind the clouds of dust and the acrid smell of gasoline, beneath the surface of the archetypically tough, renegade exterior, there lies hidden a complex web of rules and codes that govern the behavior of these outlaw bikers.
But what exactly are these rules? How did they come into existence? And are they as stringent and unwavering as they are rumored to be? Buckle up and hold on tight as we take you on a wild ride into the heart of one of the world's most elusive and notorious motorcycle gangs.
Hells Angels: the early days
The moniker "Hell's Angels" has a rich and diverse history, spanning back to the early 1900s. The name first emerged during World War I when a fighter squadron adopted it as their own. It was later taken up by a short-lived and now-forgotten Detroit motorcycle club in the 1920s. However, it wasn't until Howard Hughes's iconic 1930 aviation masterpiece, Hell's Angels—featuring the captivating Jean Harlow—that the term became a household name. Over the years, it continued to be used by various American military groups, including mercenary war pilots in China, and multiple squadrons during World War II and the Korean War.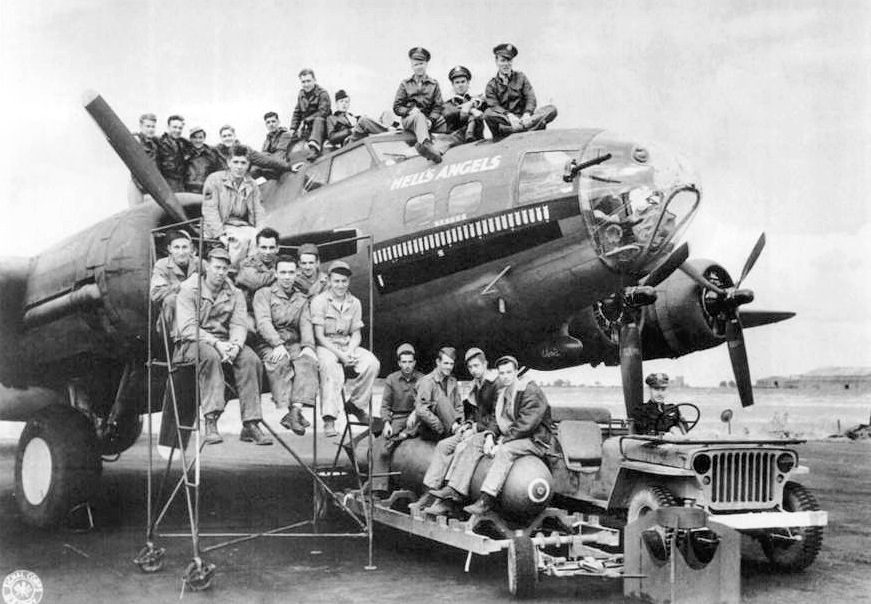 Today, of course, the name is almost exclusively associated with the notorious outlaw motorcycle club, established on March 17, 1948, in Fontana, California, following the merger of several local motorcycle clubs. According to the Hells Angels website, the man responsible for introducing the moniker to the club—the club's godfather, so to speak—was never even a member, but merely an associate of the founders. Moreover, Arvid Olsen—for that was his name—had served in the "Hell's Angels" squadron of the Flying Tigers in China during World War II, so, there is indeed a historical connection between the name "Hells Angels" and military aviation.
But that's pretty much as far as the military associations go. For many years, the Hells Angels were nothing more than a "ragtag army of ruffians that reveled in their anarchy," as described by William Marsden and Julian Sher in their 2007 book, Angels of Death: Inside the Bikers' Empire. It wasn't until a fateful day in the early months of 1957 that things began to change. On that day, Ralph "Sonny" Barger, a 19-year-old high school dropout, spotted a small, winged skull wearing an aviator cap on the leather jacket of Don "Boots" Reeves, a fellow bike rider. The rest, as they say, is history.
Sonny Barger takes charge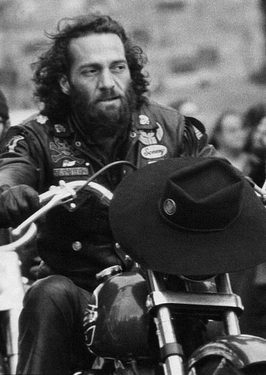 In 1957, Sonny Barger's life was seemingly at a standstill. Not that long ago, he had received an honorable discharge from the US Army for falsifying his birth certificate to be able to enlist. Craving the camaraderie and the sense of purpose he had so suddenly lost, he decided to join his first bike club, the Oakland Panthers. "I needed a close-knit club of men who could jump on their bikes, ride cross-country if they wanted to, and not abide by rules or clocks," he'll write years later, in Hell's Angel, his 2001 memoirs. He found nothing of that sort with the Panthers. "Sure, they'd party," he reminisced, "but they didn't stick together. I felt no brotherhood. When the cops busted someone, he was on his own."
"Clubless and bored," Barger roamed around the Oakland streets on his Harley Davidson, looking for like-minded individuals to join him on his rides. It wasn't long before he met up with a group of fellow bikers, including Don "Boots" Reeves, Ernie Brown, and other future founding members of the Oakland chapter of the Hells Angels. In many ways, the thing happened by accident. Blame it on that serendipitous patch "Boots" wore. Barger thought it "cool," so the group promptly marched into a local trophy shop in Hayward, and ordered a set of custom patches, all bearing the now-iconic "death head" emblem. At the time, they didn't even know that there were other Hells Angels motorcycle clubs in California. They chose the name because it sounded neat—and because it was already on the logo!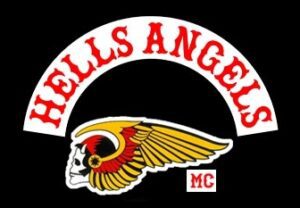 Even though Boots' was the charter's first president, Barger quickly rose to become the de facto leader of the "Nomad" Hells Angels (not knowing they were actually a charter, the gang didn't even use "Oakland" as their bottom rocker for the entire first year of its existence). He was charismatic, tough, and had a talent for organizing the group's activities. "By turns, he is a fanatic, a philosopher, a brawler, a shrewd compromiser, and a final arbitrator—and his word goes unquestioned," observed of Barger Hunter S. Thompson, gonzo journalist extraordinaire, in his very first book, published around the time that Thomas C. Lynch, attorney general of California, brought national notoriety to the Hells Angels Motorcycle Corporation, after having issued a sensationalist report on the gang's "hoodlum activities."
Under Barger's leadership, the Oakland Hells Angels chapter grew rapidly in size and influence. It was a chance encounter on the streets, with a guy named Vic Bettencourt, that opened Sonny's eyes to the fact they weren't alone, and that there were in fact many other Hells Angels clubs across California, almost all of them unaware of each other's existence. Barger, seizing the opportunity, orchestrated the merging of these disparate charters, binding them together with shared club bylaws. Thanks to his vision and hard work, by 1966—when Hunter Thompson was riding with them—the Hells Angels had expanded their reach beyond California, all the way to New Zealand; by the end of the decade, they were all over the United States, and in England and Switzerland too, spreading across Europe like a wildfire.
The original Hells Angels rulebook
The Hells Angels have long been known for their rebellious spirit and their aversion to rules and authority. It's a sentiment that's been echoed by many a Hells Angel over the years, including Barger himself. And yet, it was precisely the establishment of some basic laws that elevated the Hells Angels to iconic status as outlaws. And back in the 1960s, Barger was the first to recognize these laws' necessity. Without them, there could be no cohesiveness, especially not amongst radical individualists as biker gang members; and without cohesiveness, there would be no clubs, no brotherhood, and no lasting legacy. "As much as we don't like to make too many rules," Barger wrote in his memoirs, "a few basics have kept the club in operation for over fifty years."
They were probably first put in writing sometime in the late 1960s, in the form of a set of guidelines known as the Special California Rules. One member lost his copy on the way home from a charter meeting, and the document was subsequently leaked to the press, giving the public a rare glimpse into the inner workings of the notorious biker gang. Among other things, the regulations stipulated mandatory weekly meetings, a $2 fine for unexcused absences (now up to $100), and a $15 initiation fee for all new members (about $150 in today's money). Moreover, the rules made it clear that the club's patch was not just a club symbol, but a club property too, and that members who lost or gave away their patch would face dishonor and possible consequences. This is why, Barger says, "the cops love to grab them."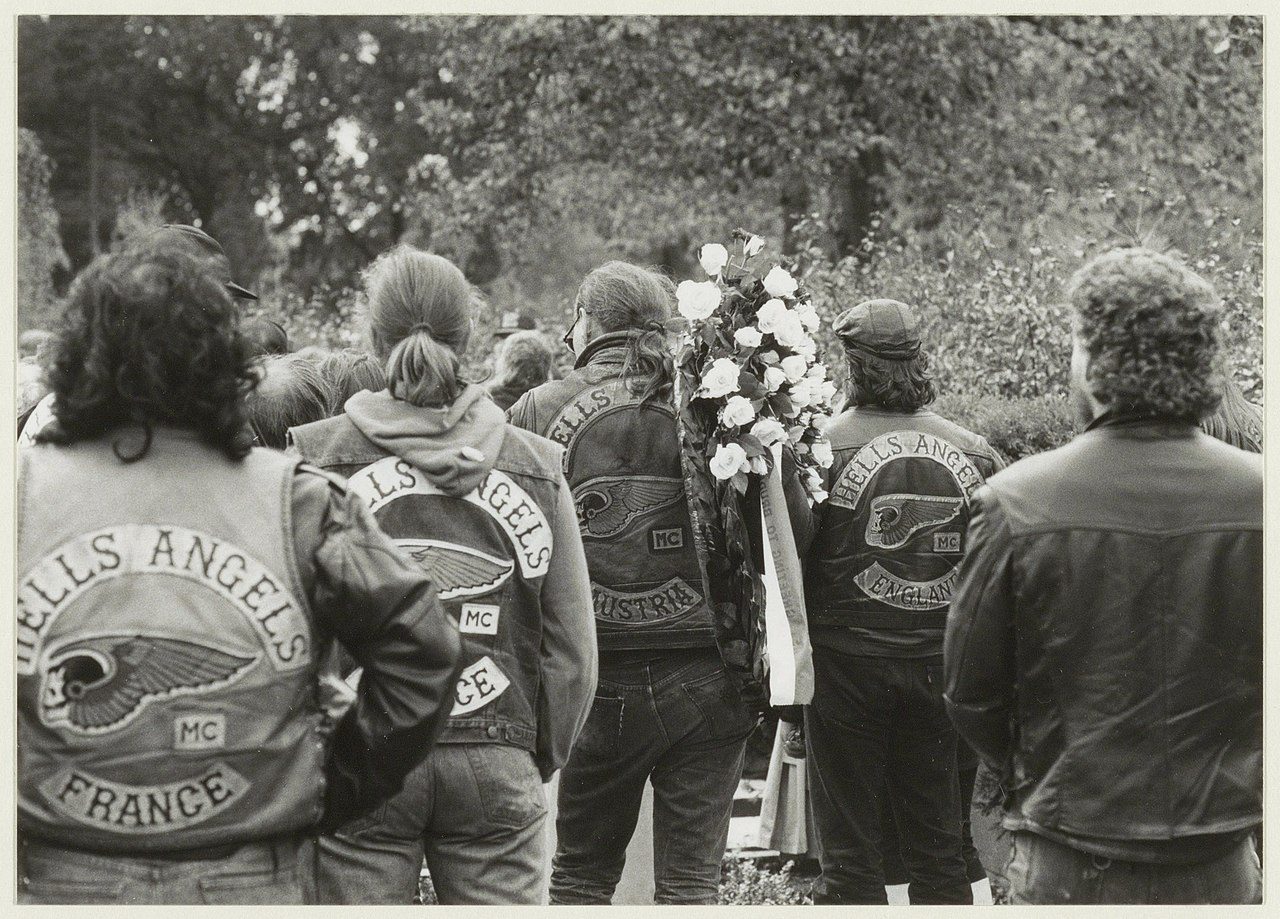 Originally, wives and girlfriends were allowed to wear "the death head" (only "when packing double"), but nowadays, nobody but a Hells Angel can wear it; in fact, in Barger's words, "trying on a member's patch is a good way to get beat up." Speaking of fights, the rules banned infighting, specifying a $5 fine for each party involved; unlike most of the other financial penalties, however, this one has remained the same and is considered hardly a deterrent today—if it ever was. In contrast, the consequences for losing or having a patch picked up by another member have increased from the original $15 to a rumored $150. "If we were out in public and I laid my patch somewhere," explains Barger, "and if a Hells Angel officer picked it up and I didn't see him, that means anybody could have picked it up, and I'm fined."
Other rules prohibited spiking the club's booze with dope, throwing live ammunition into bonfires on runs, messing with another member's wife or girlfriend, and using dope during a meeting. New members had to be voted in by existing members, and two no votes resulted in rejection. Additionally, new members had to have their own Harley Davidson motorcycles and attend three Hells Angels chapter meetings on them before being voted on at a fourth one; after that, paper ballots were used to vote. Anyone caught stealing from other members would be kicked out of the club, and no one was allowed to belong to other motorcycle clubs. Those who were expelled from the club were not permitted to return, though this rule has since changed—nowadays, you can actually get back in, even if on a very rare occasion.
Becoming a Hells Angel
Arguably, the most famous rule from the original Hells Angels rulebook—and according to Barger, "the worst one"—was "No drug burns." It was created after two members of the club began ripping off drug dealers in the early days of the club. The rule was not intended to either condone or condemn drug dealing, but rather to encourage members to follow through with any deals made. You get the goods, you pay for them—and not just beat up the dealer and make off. Nonetheless, the "no drug burns" rule caused many legal problems for the club and is no longer in effect. A few other rules, however, are. Most important among them are the ones regulating membership.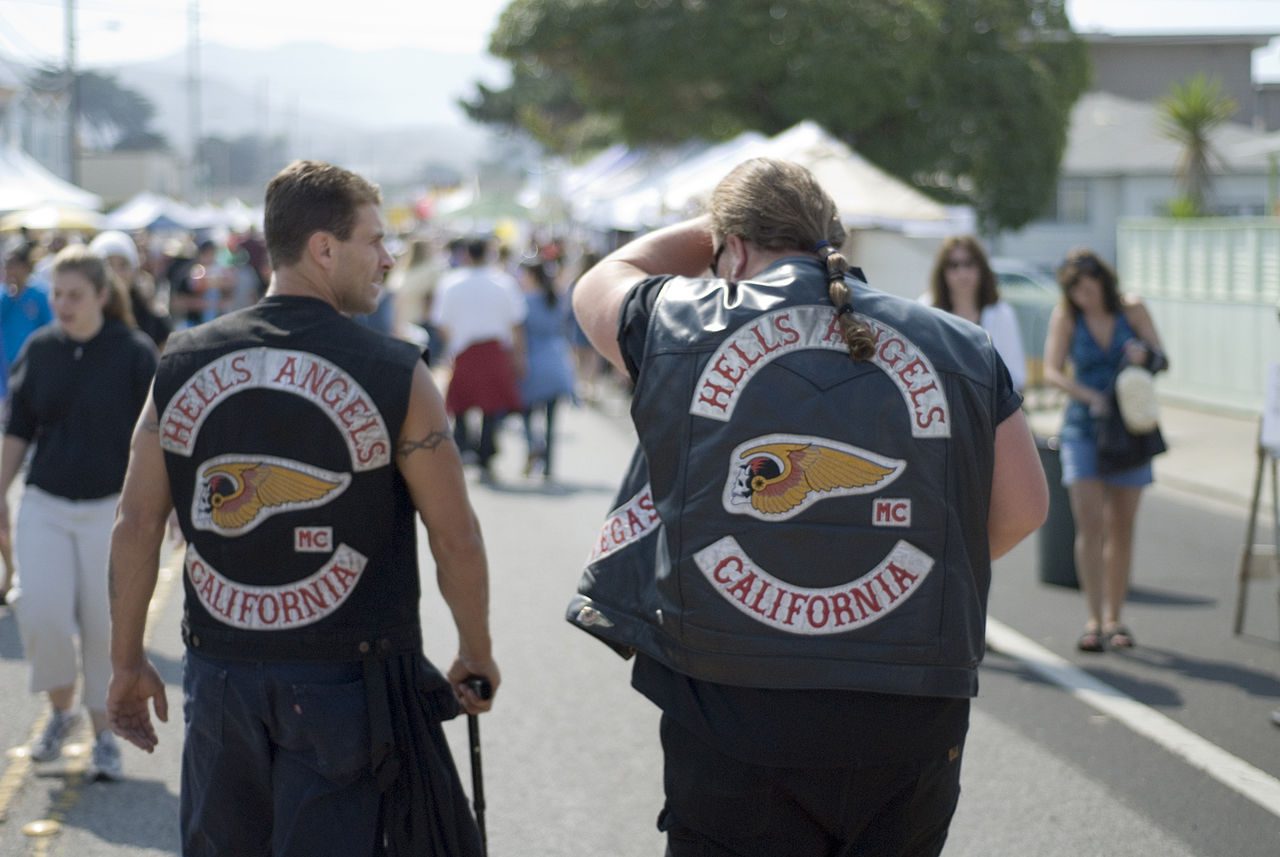 Over the years, the process of becoming a Hells Angels member has become more rigorous and demanding. The minimum requirements to join include being white (though European charters are arguably more liberal), having a valid driver's license, owning a motorcycle over 750cc, and not having a history of child molestation or any intention of becoming a law enforcement officer. Before anything, individuals must first be accepted as "official friends" by at least one full member, and then gain majority approval in a chapter vote. These potential members start as low-level helpers, performing menial tasks like maintaining the clubhouse and washing motorcycles.
The next stage is a "hang-around," followed by a "prospect" who can't attend meetings or vote but is allowed to wear the bottom rocker and a prospect badge. "Even as a prospect," Barger explains, "you're basically a gopher for the club." A full membership requires majority approval in a chapter vote, and can only be obtained after a prospect has demonstrated loyalty to the club and ability to "take care of business." Only members with "full-patch" status are permitted to don the complete four-piece insignia, comprising the Hells Angels logo, two rockers displaying the name of the club and the claimed state or territory, and the rectangular "MC" patch located below the wing of the death's head.
Some other rules Hells Angels members have to follow
The arduous initiation process and the structured hierarchy of the Hells Angels Motorcycle Club (or HAMC, for short) make it nearly impossible for police officers or other law enforcement agencies to infiltrate. Even "Hells Angels associates"—who are also part of the club but are not officially recognized as club members—aren't allowed to attend meetings, though they can be invited to parties, motorcycle rides, and other club events. For additional protection, only members of the club are permitted to wear official Hells Angels merchandise, legally or otherwise. Case in point, when fashion designer Alexander McQueen made the mistake of using a replica of the Hells Angels logo on a pashmina scarf, he received a hefty lawsuit; and when Rudolph Giuliani chose to wear a Hells Angels jacket at a 1986 press conference, he received something else entirely—a few death threats.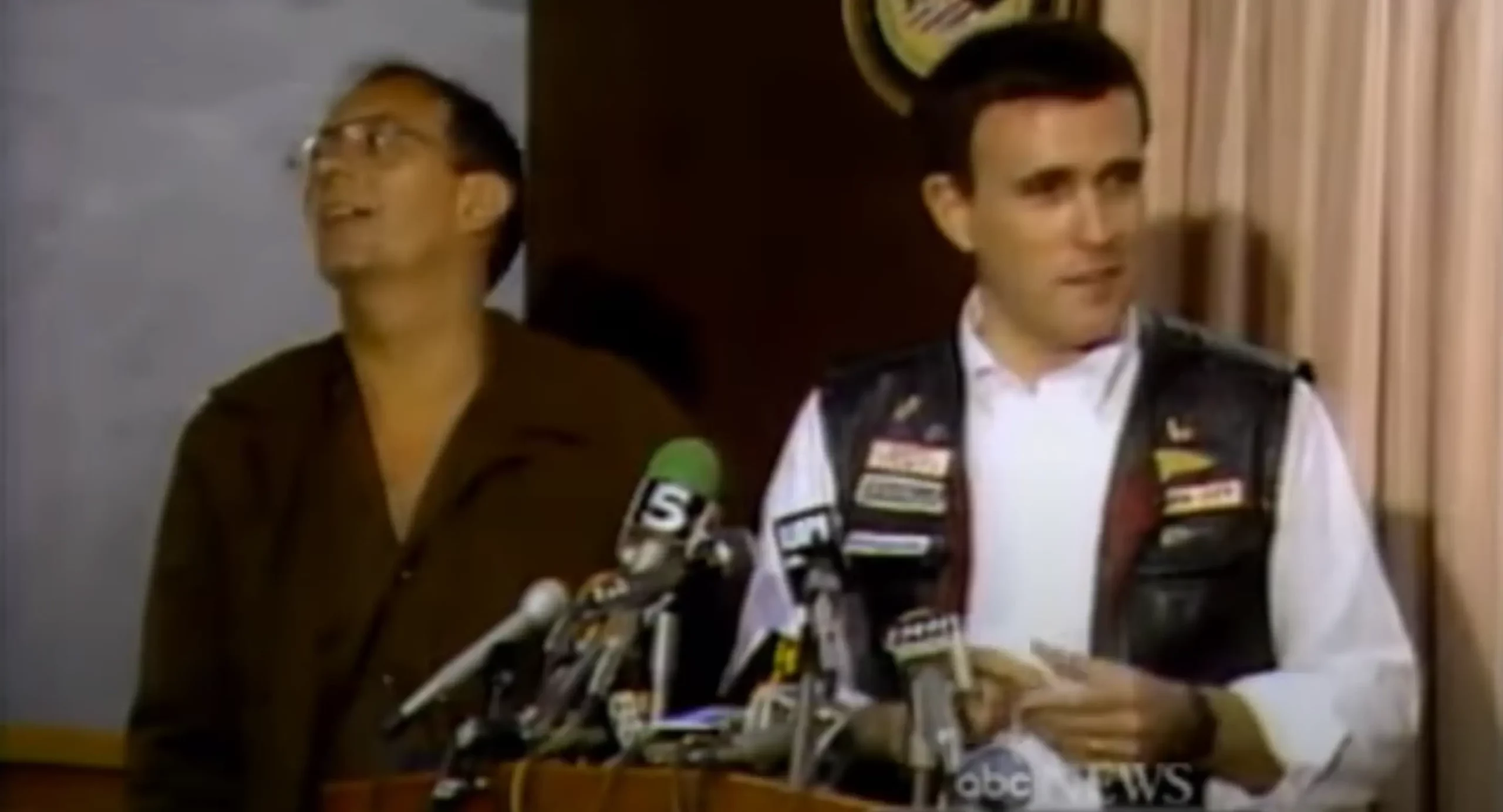 Indeed, even a Hells Angel who has left the club honorably is not allowed to wear any Hells Angels gear, and that includes his tattoos, i.e. his "skin patches." This is what former undercover agent Jay Dobyns—one of the very few federal operatives to have ever infiltrated the Hells Angels—has to say on the subject, in his 2009 New York Times bestseller, No Angel:
If for whatever reason a brother quits the club, then the Hells Angels are bound to go to his residence and remove every article of clothing, furniture, and memorabilia that contain any reference to the Hells Angels—not merely to punish and divest him, but because the stuff simply is not his. If the man in question leaves on good terms, his skin patch gets an "out" date; if he leaves on bad terms, then those tattoos are carved off—in some cases taken back with a cheese grater, or with a clothes iron on the linen setting.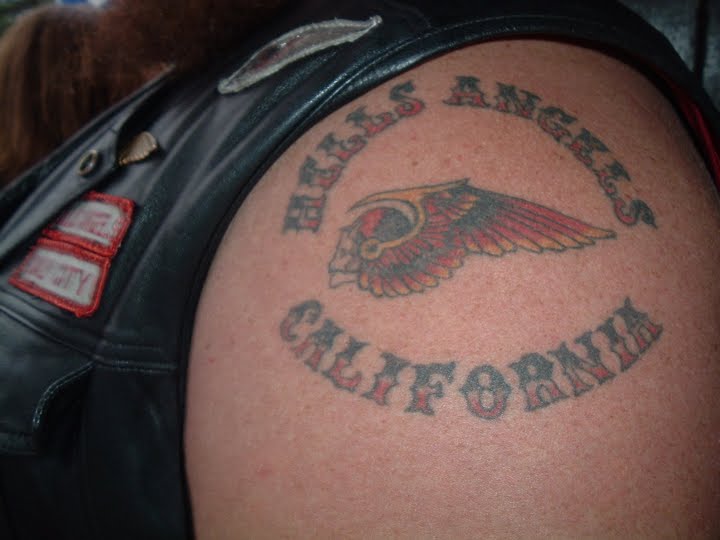 When the Hells Angels ride—and they ride quite a lot, covering tens of thousands of miles each year—they ride in a strict formation. The President of the club (or the charter president) takes the lead, with the Vice President, Road Captain, and Sergeant at Arms following in order. Prospects always ride at the back, with the remaining members occupying the middle, scrambling for any available space.
Once established, the formation rarely changes until the group reaches its destination. If, in the meantime, a member of the group is pulled over by the police, the entire formation pulls over in solidarity. This kind of comradeship is the bedrock of the majority of Hells Angels rules. Hence, "don't be a rat" might be their rule above all rules. "For a Hells Angel," Marsden and Sher remark, "breaking the code of biker loyalty means taking your life in your hands. You might as well sign your own death warrant."
Between individuality and conformism
"Hells Angels live for their club and their brothers," writes Dobyns. "One of their credos is 'Step down or aside for no man, no law, no God.' They are free men unto themselves. And at the root of this liberty is the experience of riding a bike. Their Harley-Davidsons are the vehicles of their emancipation. Emancipation from society's rules and expectations; from a life of work and obligations; from other men, wives, girlfriends, and family. Of course, they have jobs, wives, and girlfriends, but these things are secondary to their status as Hells Angels. The things that the rest of us depend on for safety and consistency were never there for these men. They're outcasts. The way they see it is, why should they return any favors?"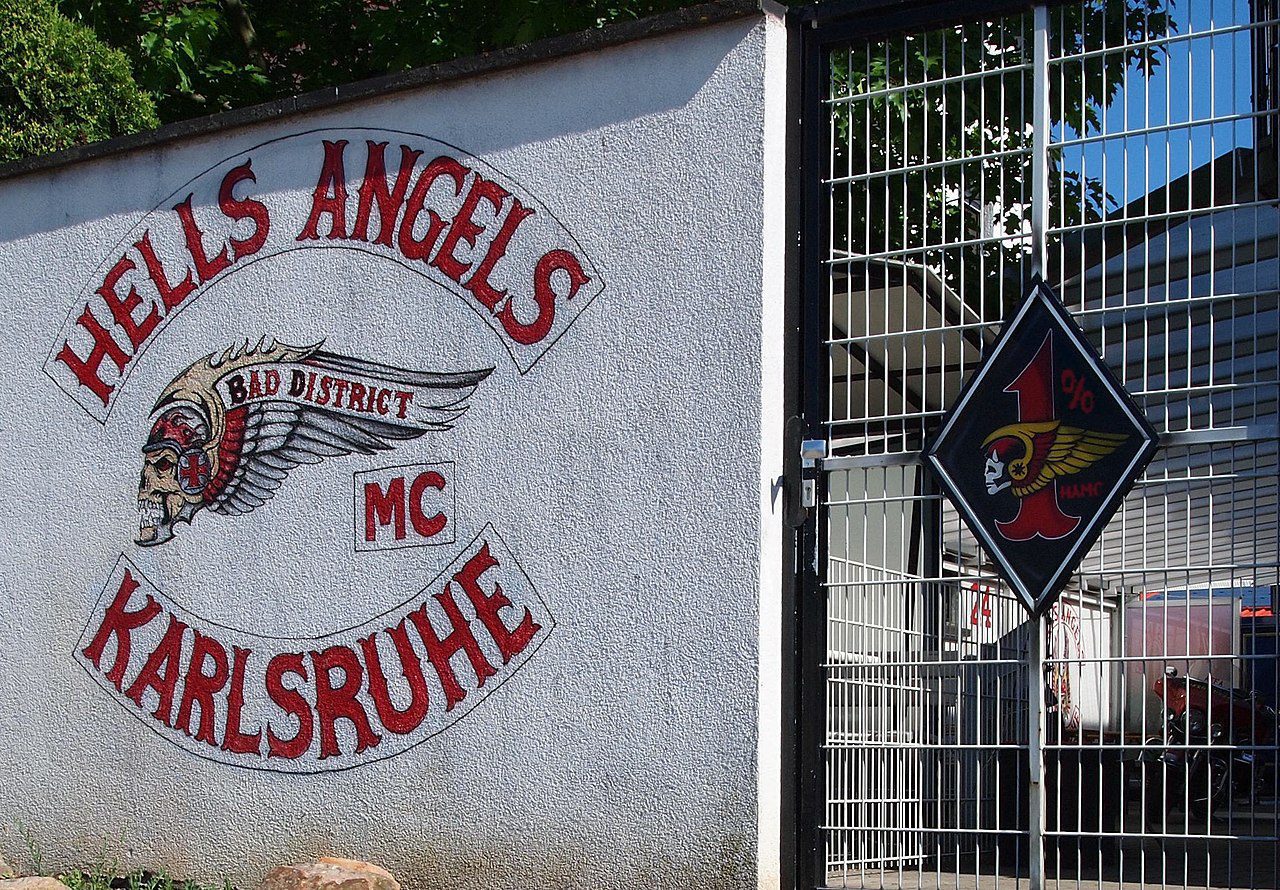 It's a curious irony that, even though their looks and lifestyle are meticulously designed to stand out from the ordinary, they hardly deviate from one another. They adhere to such a strict conformity that their individuality seems suffocated and rendered unrecognizable. "We Angels live in our own world," Sonny Barger, told a newsman, in 1965. "We just want to be left alone to be individualists." And yet, just a few sentences later, he didn't hesitate from saying the following, no matter how contradictory:
Actually we're conformists. To be an Angel, you have to conform to the rules of our society, and the Angels' rules are the toughest anywhere… Our bikes are first with us. We can do things with bikes that nobody else can… This stuff [the Nazi insignia and headgear]—that's just to shock people, to let em know we're individualists, to let em know we're Angels… There'd be no trouble if we was left alone. The only violence is when people go after us. Couple of Angels will go into a bar and a few guys gettin drunked up will start a fight, but we get blamed for it. Our two guys will put em down. Any two Angels can take on any other five guys … You got to want to be an Angel. We don't just take anybody in. We watch em. We got to know they'll stick to our rules…
In many ways—as not just a few have learned—that's the crux of the matter: the Hells Angels Motorcycle Club is a tightly-knit organization that places a premium on loyalty, brotherhood, and respect. They have their own set of rules and values, which are fiercely guarded and enforced. For those who are deemed worthy enough to follow them, the benefits can be considerable: a sense of belonging, camaraderie, and purpose. But for those who cross them, the consequences can be severe. You don't just leave the Hells Angels—the Hells Angels leave you. In a gutter. And badly bruised, if you're lucky.