In this strange climate, you might be feeling a little bit lonely. Maybe you've set up a weekly Zoom call with some of your best friends. What's the latest Zoom trend? Taking on a virtual escape room challenge!
That's right, some escape room providers have made the leap from a physical room where you solve puzzles in order to escape, to a digital Zoom call where you solve puzzles remotely. Objectives vary, but a common example would be collecting 'ingredients' as a group, and concocting a magic potion to complete the game.
Read More: Banish the travel sickness blues with motion sickness glasses
There are a multitude of different virtual escape room challenges available, but they all rely on a common element: teamwork. Reportedly, good teamwork is crucial to a successful virtual escape room experience, much more so than the conventional experience. In a physical escape room, people are often split into teams, collaborating on smaller parts of the whole task. Conversely, in a virtual escape room, larger teams often work together as one, even if the task doesn't require it. This sense of camaraderie and teamwork is part of what makes virtual escape rooms so successful, according to Nate Martin, co-founder of Puzzle Break.
Developing a new product
Puzzle Break is a Seattle-based escape room provider which has been forced to adapt to survive. The choice was go virtual or go bust, they've taken it in their stride. Pre-pandemic they offered twenty-four physical escape experiences. Virtual escape room experiences? None. With 20 locations across the US, Puzzle Break closed all of their sites in March. They had no choice but to furlough the majority of staff. There was always a natural fit for Puzzle Break within the recreational market. However, Martin also realised the need for corporate clients to continue to nurture collaboration and creativity among employees. Developing their first virtual experience in just 3 weeks, the first offering was a digital version of The Grimm Escape, one of their earliest and most successful physical escape rooms. In The Grimm Escape participants have to break a witches curse by solving puzzles before time runs out.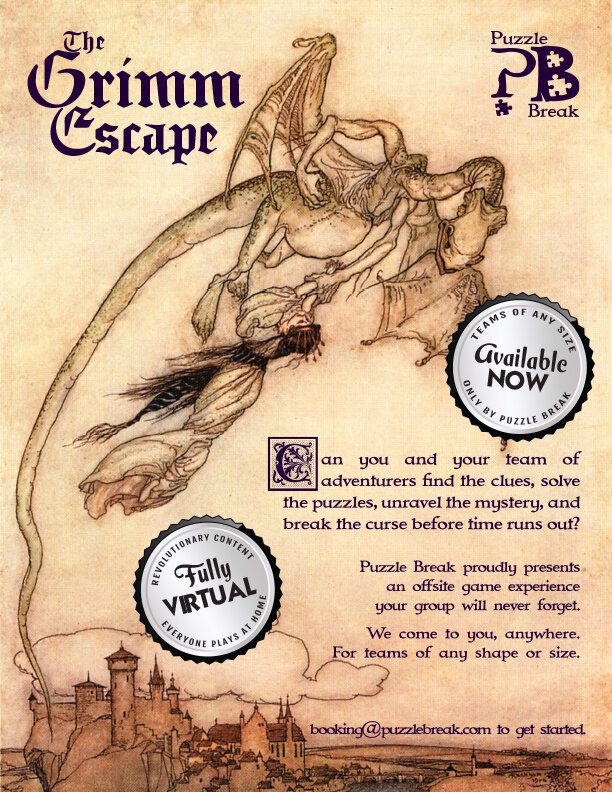 The challenge of a virtual escape room
Recreating escape rooms online presents a unique set of challenges. A graphic showing a cloud of toxic gas isn't quite as menacing as a cloud that a fog machine could produce. The way to overcome these unforeseen challenges, according to Martin, is to use different facets of the online experience to recreate things that you wouldn't get in a physical escape room. For example, there is a scavenger hunt element to virtual escape rooms. This feature is not seen in physical escape rooms because of the constraints a brick-and-mortar room gives you. On a Zoom call, people can visit different websites, and solve password puzzles.
'Exploration and discovery are really important components to this sort of thing. We just have to figure out new and interesting ways to do it,' Martin said in a recent interview. That quote asks an interesting question: if you know the critical components of the game you're playing, is it possible to recreate those components with entirely different real-world elements? Guaging the postive response it would certainly seem so.
Reaping the rewards of successful innovation
The response to Puzzle Break's virtual escape rooms has been hugely positive. Game slots are selling out fast and the company has managed to bring 50% of it's staff out of furlough.
Read More: Ivar the Boneless: Separating the real man from Norse legend
Different studies have shown that in recent years, going out with friends has been replaced by staying in with friends. In many cases, people have been swapping nightclubs for staying in and arranging group activities. Experiencing virtual escape rooms may be the latest trend for groups of friends, I can't wait to try them out!